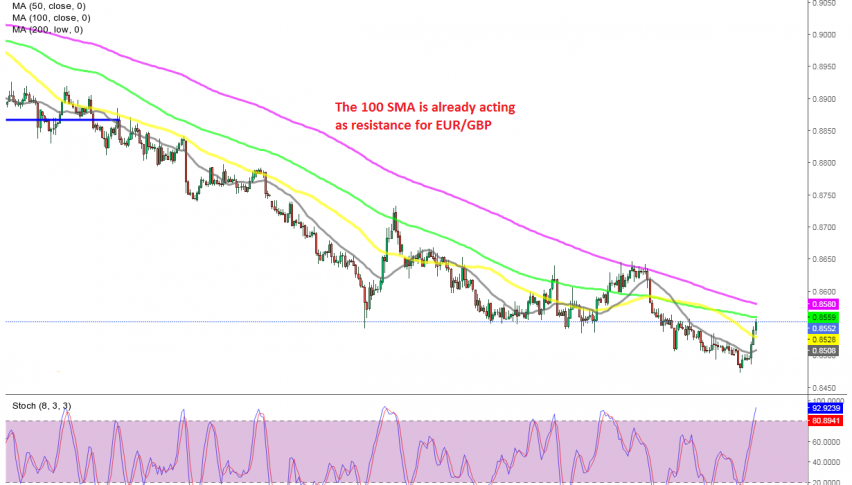 Selling EUR/GBP, as GBP/USD Bounces Off the 100 SMA
GBP/USD used to be quite bullish since March last year and it gained even more pace after the trade deal between the UK and the EU, which validated the Brexit deal reached in 2019. GBP/USD surged more than 10 cents in the first two months of this year as a result, climbing above 1.40.
But, the situation reversed in the last week of February. The decline in the USD stopped and the trend started to turn bearish in this pair. Nonetheless, the decline in GBP/USD was much slower than the decline in EUR/USD, which lost around 6.50 cents until last week.
This meant that the Euro was declining against the GBP, hence the bearish trend in this pair since the beginning of this year. We have made use of this downtrend, opening many sell forex signals during this time on retraces higher.
Today we are seeing another retrace higher in this pair, which has climbed nearly 100 pips, as the Euro turns bullish too, on higher equities after the Easter weekend. The unemployment rate for the Eurozone remained high at 8.3% for March, as today's report showed, but the improved investor sentiment is helping improve the sentiment for the Euro as well.
GBP/USD is bouncing off the 100 SMA now
But, the decline in GBP/USD seems to have stalled at the 100 SMA (green) in the H4 chart and is starting to bounce off that moving average. EUR/GBP on the other hand, has approached the 100 SMA from behind on the same time-frame, so we decided to open another sell forex signal here. Now the price is already starting to retreat back down, so this looks like a good trade.