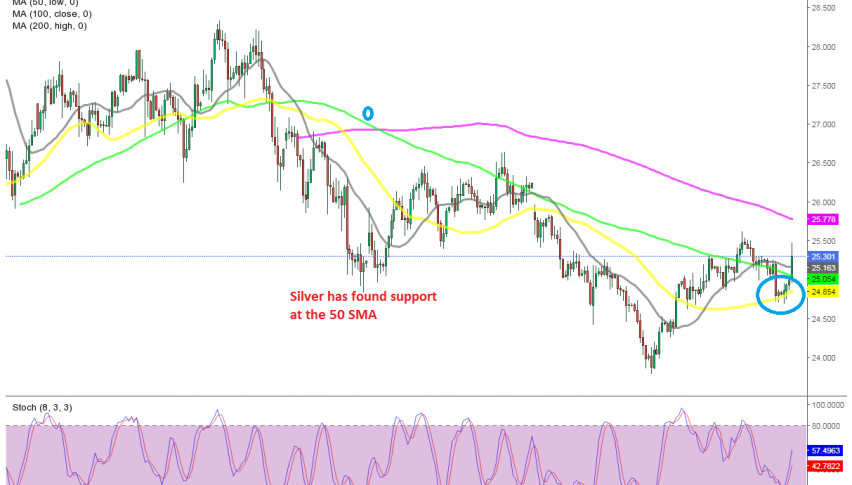 Silver Jumps As Market Relax, After US Inflation Remains in Reasonable Range
Inflation has been increasing in the last few months of 2020 and so far in 2021, as crude Oil prices continued the bullish trend of last year. In the US in particular, inflation has also been affected positively by the expansion of the service sector. That has been one of the reasons for the USD to stop last year's downtrend and turn bullish this year.
Traders were fearing this month's CPI (consumer price index) report, expecting another surge. Inflation did increase, but it wan't too extraordinary, which sent the USD down in a releaf move and the Silver jumping higher, after finding support at the 50 SMA (yellow) on the H4 chart.
March 2021 US CPI Inflation Report
March CPI YoY +2.6% vs +2.5% expected
February CPI was +1.7%
Core CPI MoM, ex. food and energy +1.6% vs +1.5% expected
February core PCI was +1.3%
CPI MoM +0.6% vs +0.5% expected (highest monthly reading since 2012)
February core CPI was +0.4%
Core CPI MoM ex. food and energy +0.3% vs +0.2% expected
Earnings/Wages Report:
Real average hourly earnings YoY +1.5% vs +3.4% prior
Real average weekly earnings YoY +3.9% vs +4.1% prior
This is the sort of number that leads an inflation-skittish market to breathe a sigh of relief. Yes, it's a tick higher than expected but it's lower than feared and isn't the kind of number to bother the FED. The US dollar was unmoved on the release at first, but turned lower later.
Drilling into the details, half the headline rise in March was due to gasoline. The core rise reflected higher rent and auto insurance premiums. Besides that, wages cooled off last month, so both played a role in sending the USD down. Although, inflation is higher undeniably.