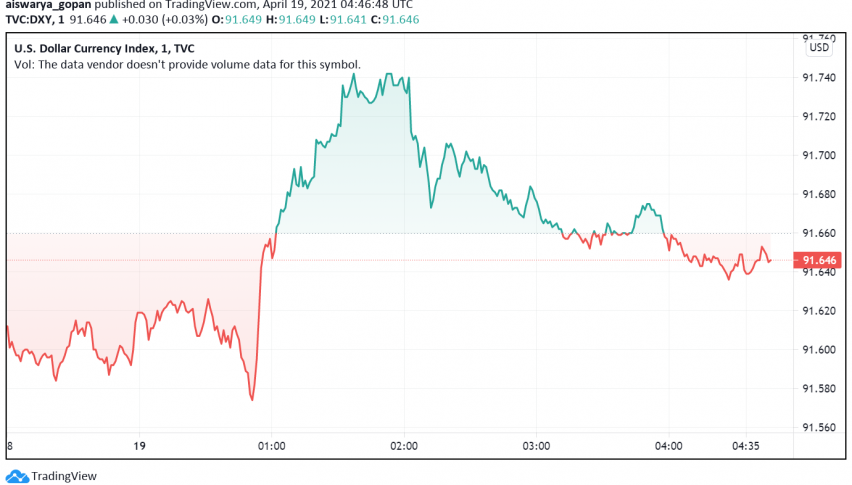 Weakness in US Dollar Continues as 10-Year US Treasury Yields Approach 1.50%
The US dollar's weakness continues into the brand new trading week, with the reserve currency holding close to the lowest levels seen since a month against other leading currencies following a decline in US Treasury yields. At the time of writing, the US dollar index DXY is trading around 91.64.
After rising to 14-month highs last month, the benchmark 10-year US Treasury yield is sliding lower as concerns about high inflation due to speedy economic recovery dissipate. Fed officials have repeatedly stressed that any price hike would be momentary and would not require any intervention from the central bank, helping ease markets' concerns and driving down the bond yields.
In March, the 10-year Treasury yields had soared above 1.7%, driving bullish moves in the US dollar, which was already gaining strength over rising hopes for faster economic recovery. However, with inflation worries no longer being on traders' minds, economists anticipate further weakness in the bond yields, possibly down to below 1.5% as well.
Meanwhile, positive economic data releases also failed to drive too much moves in the US dollar through last week, signaling that the optimism around US economic recovery has been almost completely priced in by the markets. The recent weakness in the greenback has benefited the Euro that continues to gain strength and could very well take a shot at climbing above the key 1.22 level soon.