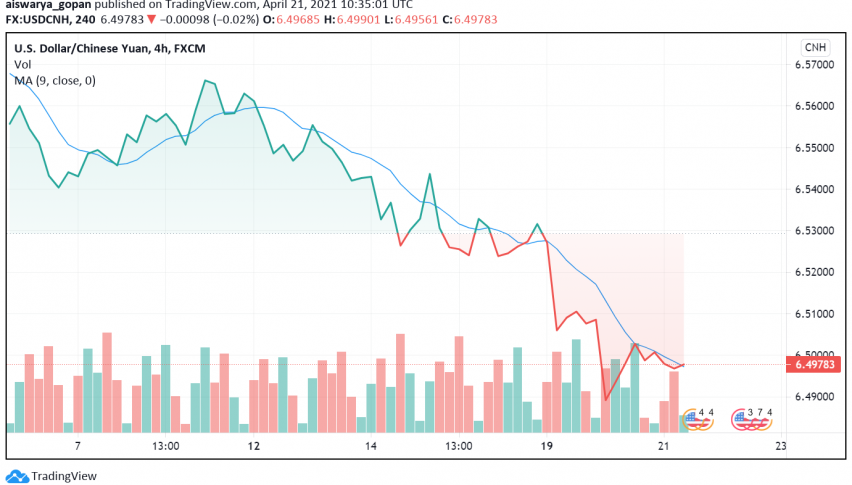 Chinese Yuan Makes Some Gains Against US Dollar – USD/CNH Range-bound
The Chinese yuan is enjoying some strengthening against the weakening US dollar on Wednesday after the PBOC set the official midpoint rate higher earlier in the day; however, moves remain somewhat range-bound for now. At the time of writing, USD/CNH is trading around 6.49.
The Chinese central bank fixed the official midpoint rate of the yuan against the US dollar at 6.5046, the strongest level seen since March 23. During the previous session, it was set at 6.5103, but has been revised on account of an extended weakness in the greenback lately.
Analysts expect USD/CNH to continue trading within a tight range in the near term as markets weigh the impact of the latest outbreak of fresh coronavirus cases across leading economies, most notably Canada, India and Japan. The resurgence of cases is likely to increase the safe haven appeal of the US dollar and drive some strength in it even as the yuan trades strong amid hopes for China's economic recovery.
The risk-off mood sent the dollar index back above the 91 level but a drop to the 90 level could help the CNH strengthen further in the coming sessions. However, the bullish moves in the yuan may not be sustainable as fundamentals out of China are not strong enough to drive further appreciation against the US dollar in the near term.
The US dollar was higher and will end this week on the bullish track as traders awaited US inflation data later in the day, which might...
1 year ago