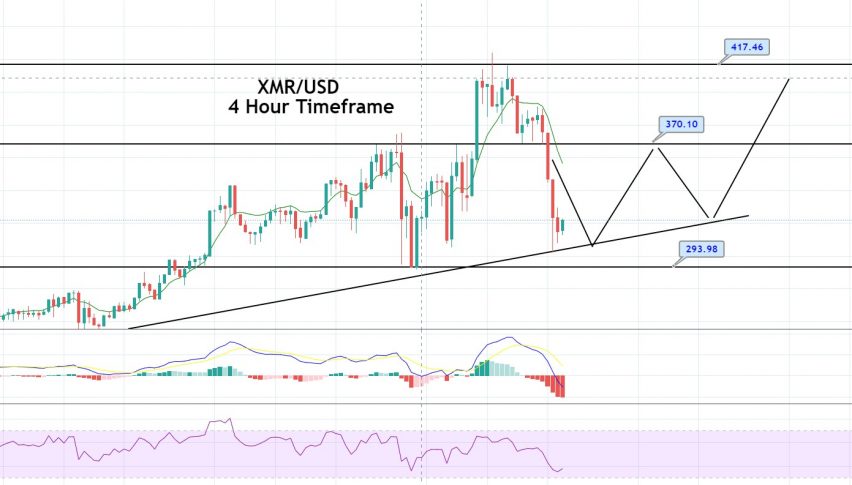 Monero Price Forecast – Dramatic Selling in XMR, Brace for Buying!
Posted Friday, April 23, 2021 by
Arslan Butt
• 2 min read
XMR/USD closed at 347.591 after placing a high of 390.540 and a low of 344.527. XMR/USD extended its losses on Thursday and reached below 350 level after reaching above $425 on Tuesday for the first time since 2018. The recent uptick in Monero (XMR) was caused by the atomic swaps and real-world integrations that caught the attention of retail and institutional investors. Despite Bitcoin's negative sentiment weighing on the whole crypto market, Monero managed to move in a different kind of trend and maintained its steady and substantial rise.
The continuous development of the blockchain ecosystem has made interoperability a very critical issue. And Monero has initiated atomic swaps to solve this issue by depending on complex scripts to establish bridges that will connect isolated blockchains. Atomic swaps enable users to exchange tokens with others without establishing a mutual trust mechanism directly. This solved the problem of interoperability between Monero and other blockchains and helped XMR to post gains.
However, on Thursday, XMR/USD started to follow the bearish momentum of BITCOIN and extended its losses. Bitcoin came under pressure after news suggesting a rise in capital gains tax by President Joe Biden started circulating in the market. Bitcoin fell below the $52,000 level on Thursday and opened more room for the decline that also weighed on the whole crypto market, and XMR also followed in its footsteps, falling below the $350 level on Thursday.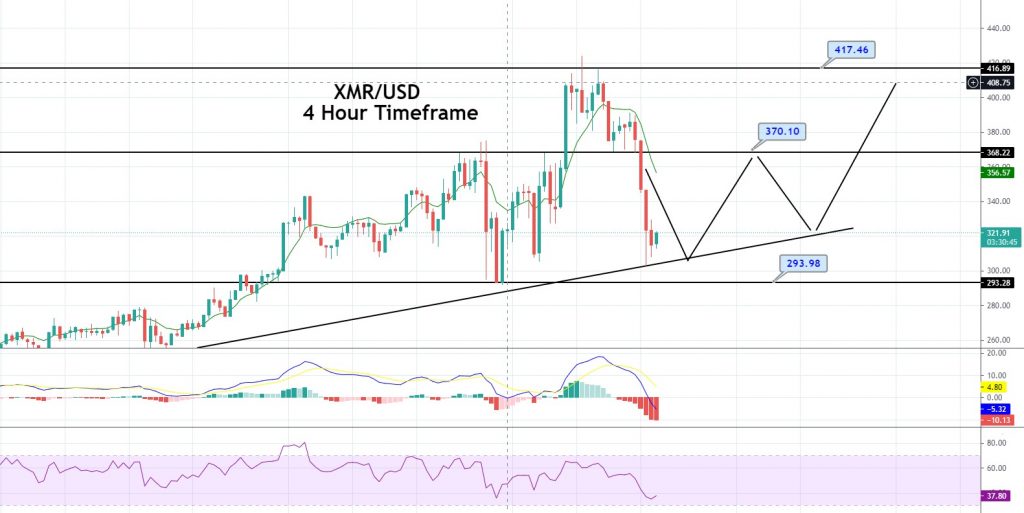 Monero Daily Technical Levels
Support Resistance
334.585 373.597
321.581 399.605
295.573 412.610
Pivot Point: 360.593
The XMR/USD pair trades dramatically bearish at 322 level, having dropped from 416 level to 301 level. On the lower side, it may find immediate support at 293 level along with a resistance level of 370. The pair has recently formed three black crows pattern on the 4-hour timeframe that's suggesting odds of bearish trend continuation. The MACD is crossing below 0, exhibiting a bearish crossover that indicates a strong bearish bias among traders. Whereas the RSI also holds in the selling zone today. Monero is likely to continue its selling trend until the 293 level before taking a bullish reversal. Good luck!
The XMR/USD pair is trading at the 252 level, having disrupted the support level of 263. On the lower side, the immediate support prevails..
2 years ago