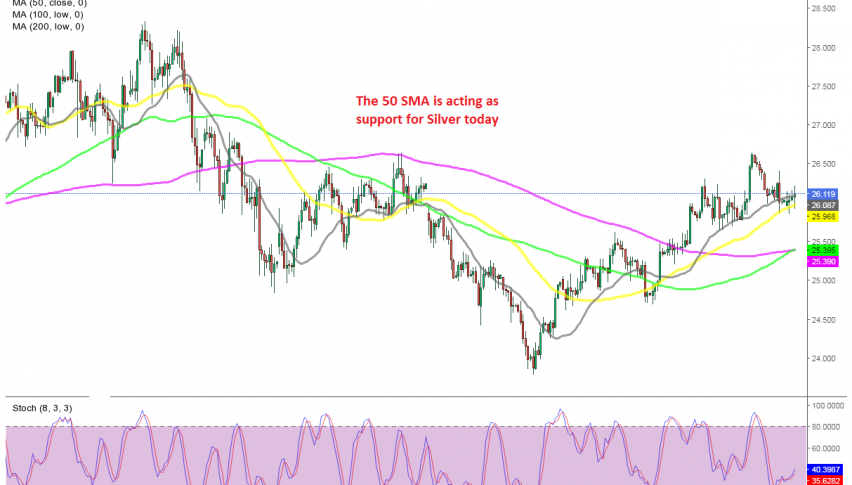 Silver Remains Supported by MAs, As US Goods Orders Miss Expectations
[[XAG/USD-sponsored]]
Silver has been holding on better than GOLD since last summer, when traditional safe havens lost their appeal, as the crypto market acquired that status. At some point, Silver pierced above $30 as the Reddit crowd which sent GameStop GME surging in January turned to Silver, flushing out some weak stops above that big round level.
But after that move Silver turned bearish at the end of February and remained so until the beginning of this month as the USD turned bullish. But, the USD started to decline this month again and SILVER turned bullish. The price has moved above all moving averages on the H4 chart, with the 50 SMA (yellow) providing support now.
This looks like a good opportunity to go long after the retrace down. The US durable goods orders turned positive in March, as today's report showed, but missed expectations nonetheless keeping the USD uncertain. So, we will watch the price action in Silver and might go long soon, so make sure to keep an eye on our forex signals page.
March 2021 Prelim Durable Goods Orders
Orders turned positive again in March at least
March prelim durable goods orders +0.5% vs +2.5% expected
February orders came at -1.2% (revised to -0.9%)
Core orders ex. transportation +1.6% vs +1.6% expected
February core orders were -0.9% (revised to -0.3%)
Capital goods orders non-defense ex-air +0.9% vs +1.8% expected
Prior capital goods orders non-defense ex-air -0.9% (revised to -0.8%)
Capital goods shipments non-defense ex-air +1.3% vs  +1.5% expected
Prior capital goods shipments non-defense ex-air -1.1%
This is a bit of a disappointment. Survey measures of orders have been very strong but there's been some moderation in the hard data in Feb/March. I don't think that's enough to rattle the market but it's something to keep an eye on. Overall, orders are up in 10 of the past 11 months following the massive contractions a year ago.