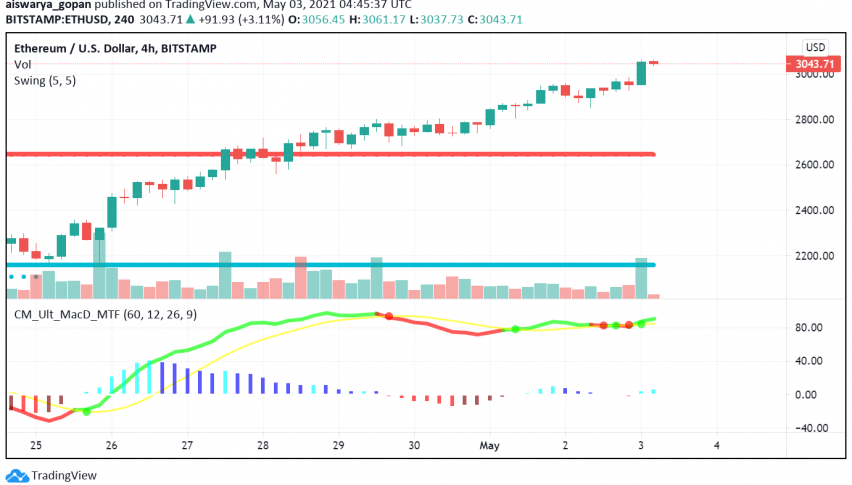 Ethereum Soars Past $3,000, Bitcoin Reclaims $58,000
The rally in the world's second largest cryptocurrency continues into Monday, taking Ethereum to a record high above the $3,000 level – as we had anticipated in our previous coverage. At the time of writing, ETH/USD is trading at around $3,043, a new ATH,  strengthening by over 300% since the beginning of 2021.
The recent optimism among Ethereum (ETH) traders has been triggered by news about the European Investment Bank's plans to issue a 100 million digital bond on its blockchain network. The development heralds a whole new wave of mainstream acceptance by large financial institutions not only for Ethereum's blockchain network but for cryptocurrencies as a whole as well.
ETH/USD has been making gains on the back of the rising popularity of DeFi, which now has a market cap of over $100 billion – the majority of which sits on the Ethereum network. In addition, the upcoming Eth 2.0 upgrade has also garnered considerable interest among investors as it will enhance the capabilities of the network by switching from a Proof of Word (PoW) to a Proof of Stake (PoS) consensus mechanism which is more efficient and scalable.
Meanwhile, active trading over the weekend saw the most popular cryptocurrency Bitcoin reclaim the $58,000 level after having slipped below $50,000 a few sessions ago. Further buying pressure among traders could send the digital currency over the $60,000 level,