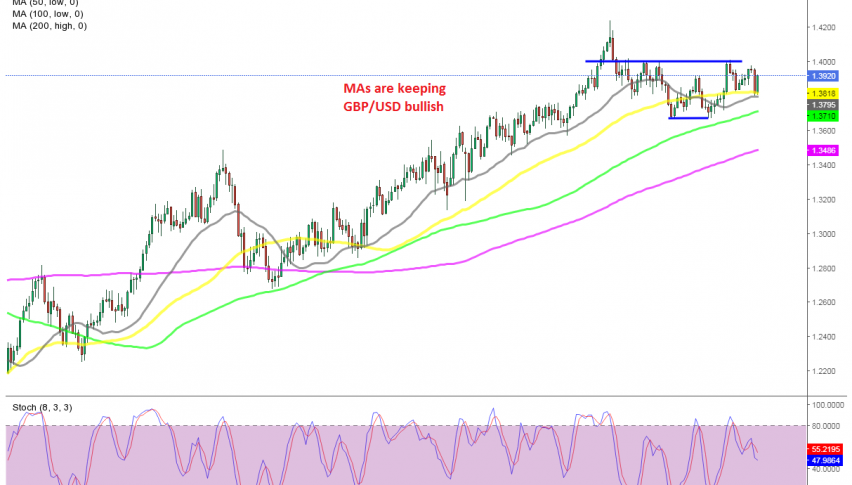 GBP/USD Bounces Off the 50 SMA, As US ISM Manufacturing Cools Off in April
GBP/USD has been bullish for more than a year; it climbed around 28 cents as it moved above 1.42 at the end of February. It retreated lower in March, but it turned bullish again in April and the sentiment remains bullish now, especially after the US ISM manufacturing report was released a while ago. GBP/USD is around 120 pip higher today after it bounced off the 50 SMA on the daily chart, so the pressure remains to the upside for this pair, which is heading toward 1.40 now.
April US manufacturing survey from the ISM:
April US ISM manufacturing 60.7 points vs 65.0 expected
March was 64.7 points (highest since 1983)
Prices paid 89.6 points vs 86.0 expected (85.6 in March)
New orders 64.3 points vs 68.0 prior
Employment 55.1 points vs 59.6 prior
If you go by the comments in the report below, this is more about supply shortages rather than a dip in demand. This is good news in fact, showing that the supply side can't keep up with the demand. So, the next few months will probably be better.
"The current electronics/semiconductor shortage is having tremendous impacts on lead times and pricing. Additionally, there appears to be a general inflation of prices across most, if not all, supply lines." (Computer & Electronic Products)
"Upstream producers/suppliers are back online and working towards full rates. Demand is outpacing supply and will continue into the third quarter, when the supply chain is expected to be refilled. Supply/demand should be more balanced in Q3/Q4, but demand will continue as customers run hard to meet their demand and rebuild inventory." (Chemical Products)
"Continued strong sales; however, we have had to trim some production due to the global chip shortage. Hasn't affected inventories greatly yet, but a continued decrease will begin to reduce available inventories if we don't recover chip supply shortly." (Transportation Equipment)
"Business is picking up as restaurants open." (Food, Beverage & Tobacco Products)
"Oil production has been steady, along with market prices and capital expenditures." (Petroleum & Coal Products)
"Steel prices are crazy high. The normal checks on the domestic steel mills are not functioning – imported steel is distorted by the Section 232 tariffs." (Fabricated Metal Products)
"It's getting much more difficult to supply production with materials that are made with copper or steel. Lots of work on the floor, but I am worried about getting the materials to support." (Electrical Equipment, Appliances & Components)
"Market capacity in most areas is oversold, with no realistic improvement on the horizon. In fact, it appears that demand will continue to strengthen, leading to more significant disruptions." (Furniture & Related Products)
"In 35 years of purchasing, I've never seen everything like these extended lead times and rising prices – from colors, film, corrugate to resins, they're all up. The only thing plentiful at present, according to my spam filter, is personal protective equipment [PPE]." (Plastics & Rubber Products)
"The metals markets remain very challenging at best. Shortages of raw materials have increased, especially in aluminum and carbon steel. Prices continue to rapidly increase. Transportation and trucking [are] also a big challenge." (Primary Metals)
"Demand continues to be very strong. Supply chain delays hamper our availability and ability to sell more." (Machinery)