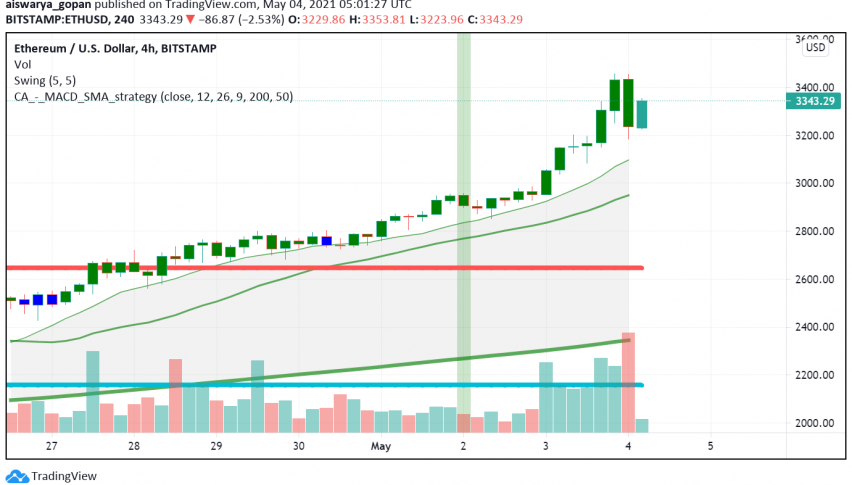 Ethereum Soars to New Record High as Demand For NFTs, Crypto Rise
Early on Tuesday, the extreme bull run in Ethereum continues, taking it to yet another record high over $3,457. Just a day prior, it had crossed the all-important $3,000 level as markets cheered the EIB's decision to launch a digital bond on the Ethereum blockchain network.
At the time of writing, ETH/USD is trading at around $3,343, easing slightly lower after touching a new ATH and having risen by around 365% since the start of this year. The rising popularity of NFTs, DeFi and DApps have propelled ETH's rise as more users join its network to conduct transactions.
According to analysis by IntoTheBlock, since the beginning of this year, around seven million new Ethereum addresses have been created – indicating the increased adoption of this network. The higher interest in the world's second largest cryptocurrency by market cap comes not only on the back of DeFi and NFTs but also over rising interest in trading the crypto market.
However, Ether's rise is not without challenges – the blockchain network still faces issues related to gas fees and congestion, and some analysts remain concerned that immediate upcoming upgrades could do little to fix these issues. Ethereum miners have already opposed a proposed upgrade that could cut their mining fees in half, even as scalability remains a challenge in comparison with newer alternatives like the Binance Smart Chain (BSC) and Polygon (MATIC).