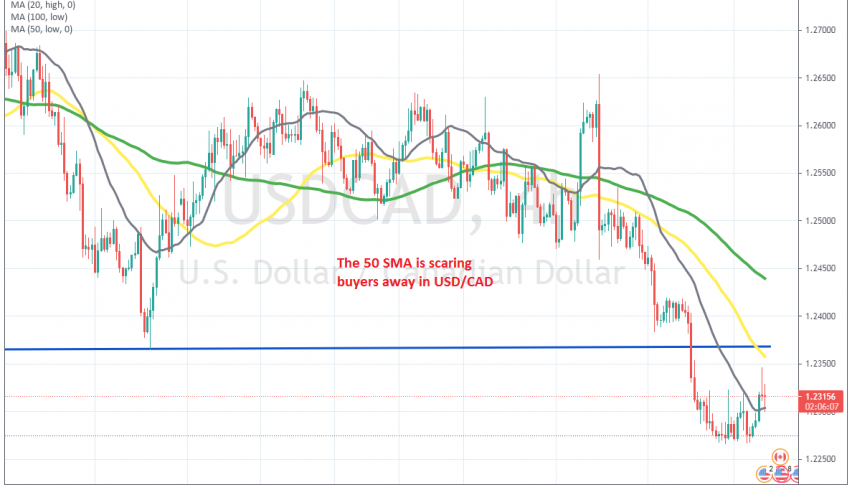 The Retrace Up in USD/CAD Ends, US Factory Orders Turn Positive Again
USD/CAD has been really bearish since last March when the USD turned down and the increase in Oil prices since April last year has helped the cause for sellers as well. As a result, this pair has lost around 24 cents from top to bottom and in the last two weeks the decline picked up pace further, sending this pair 400 pips lower.
In the last few sessions we have seen this pair retrace higher, but it has formed a bearish reversing pattern on the H4 chart now. The previous H4 candlestick closed as an upside-down hammer, which is a bearish reversing signal, so we decided to go shorton USD/CAD . The US durable goods orders report was released a while ago, showing a reversal from February's decline.
March 2021 US factory orders
March factory orders +1.1% vs +1.3% expected
February orders were -0.8%
Core orders excluding transport +1.9% vs +1.8% expected
Prior core orders were -0.6%
Revisions to durable goods:
US durable goods orders +0.8% vs +0.5% expected
Prelim February durable goods orders +3.4%
Prior durable goods orders +1.2%
Durables ex transportation +1.9% vs +1.6% prelim
Capital goods orders non-defense ex-air +1.2% vs +0.9% expected
Prelim capital goods orders non-defense ex-air +0.9%
Capital goods shipments non-defense ex-air +1.6% vs +1.3% prelim
Overall, these numbers are decent. Core orders were revised higher and the shipments number will be a boost to Q1 GDP.
Crude Oil made a $3 bearish reversal yesterday as US inflation and Oil inventories report approach
6 days ago