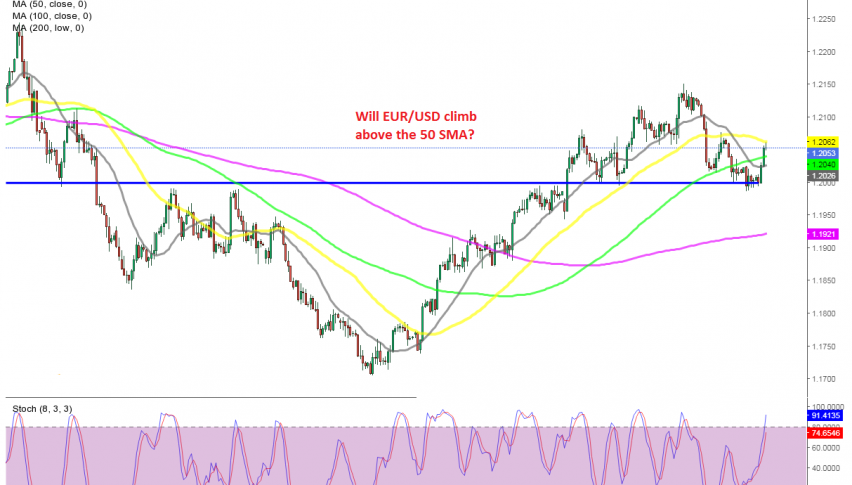 EUR/USD Stalling at the 50 SMA, After the Positive US Jobs Report
EUR/USD turned quite bullish in April, climbing in a straightforward trend, with the 50 SMA (yellow) acting as support n the H4 chart. But, the larger decline that began early this year is still in play and it seems like last month's climb is already over now.
This month the price has turned bearish so far and yesterday EUR/USD fell below 1.20, but today we are seeing some bullish momentum. Although now EUR/USD is facing the 50 SMA where it has stalled after the US unemployment claims report.
Claims fell for another week, this time below 500K, which is the lowest since the coronavirus started. This is another piece of positive data from the US, but the USD will only start turning bullish when the FED gives clear signals that they are in line with the economy, which will be followed by tightening of the monetary policy.
US initial jobless claims and continuing claims for the current week
initial jobless claims 498K versus 538K estimate.  Prior week was revised higher by 37K to 590K from 553K and this reported
four-week moving average of initial jobs claims 560K versus 621K last week. This was the lowest since March 14, 2020
continuing claims 3690k vs 3620K estimate.  Prior week was revised down to 3653k from 3660K previously reported
four-week moving average of continuing claims 3675.75K vs 3682.50K last week
During the week ending April 17, 51 states reported 6,862,705 continued weekly claims for Pandemic Unemployment Assistance benefits and 51 states reported 4,972,507 continued claims for Pandemic Emergency Unemployment Compensation benefits.
The largest increases in initial claims for the week ending April 24 were in Virginia (+23,605), Florida (+9,179), Michigan (+8,234), California (+5,731), and Oregon (+4,064),

The largest decreases were in Texas (-12,673), Wisconsin (-7,504), Tennessee (-4,063), Georgia (-3,617), and Iowa (-3,026).
The initial claims was the lowest level since March 14, 2020 when it came in at 256K.