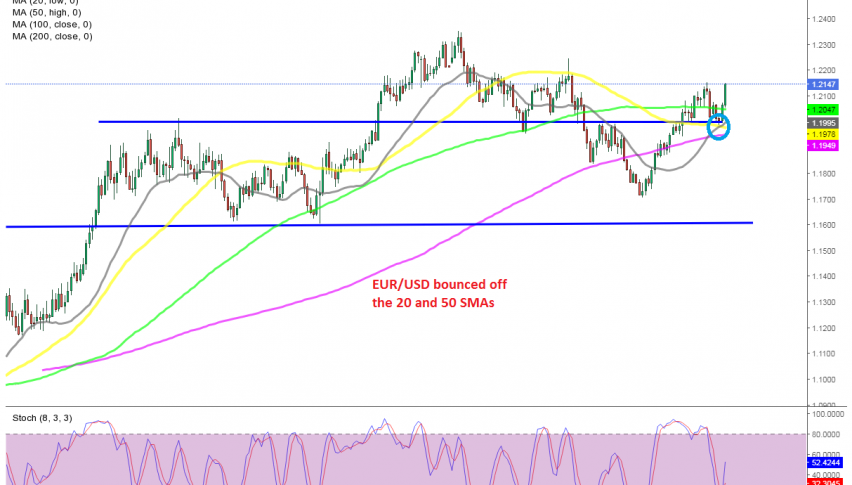 Has 1.20 Turned Into Support for EUR/USD?
EUR/USD remains quite bullish a year after it reversed higher, following the outbreak of the coronavirus in Europe and the US. The resistance levels have been taken out and 1.20 didn't hold for too long, with the price reaching 1.2350s in the first week of January.
The USD started to gain some ground and EUR/USD turned lower for some time and this pair fell around $6.50 lower to 1.17, as the US economy continued to improve further. But the decline stopped in April and the USD turned bearish again, with the FED not giving signs of starting to tighten the monetary policy anytime soon.
EUR/USD moved above 1.20 again and now it seems like this level might have turned into support on the daily chart. The latest attempt to reverse the price down found strong buying pressure around 1.20, with the 20 SMA (gray) and the 50 SMA (yellow) also holding as support on this time-frame.
Yesterday the price started jumping, while today the low number of new jobs in the US for April sent this pair further up and now we are 150 pips higher from this week's lows. So, the area around 1.20 might turn into a mid-term support for EUR/USD, which would keep this pair bullish. It also looks like a good place to buy, but we will see how the price will react when it pulls back down there again.