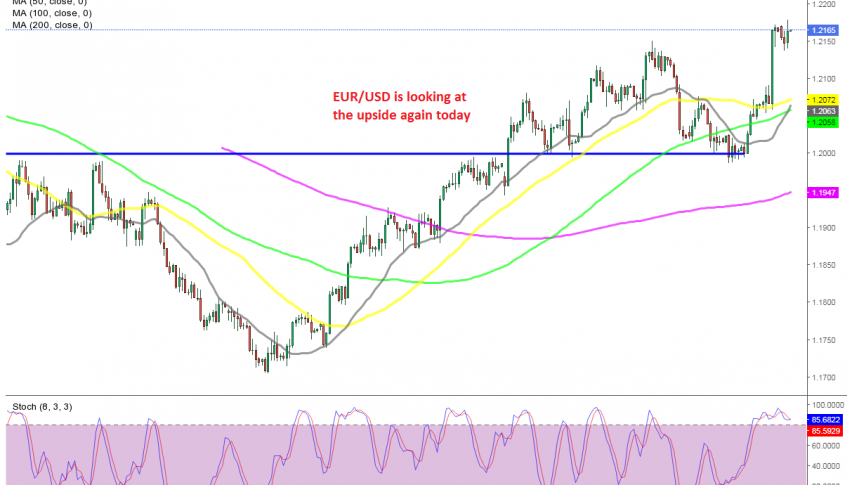 EUR/USD Holding Last Week's Gains Above 1.21, As EU Investor Confidence Jumps
EUR/USD started to turn bearish this month, after climbing 450 pips in April. But, the US employment report which was released on Friday came much weaker than expected, although it wasn't too bad for normal times.
But, markets are expecting some really strong figures now, as the US economy has been booming since late 2020. The FED has placed its cards on the economic data regarding the monetary tightening, so markets are looking too much into the data, hence the big jump in EUR/USD on Friday. Today the
Eurozone investor confidence jumped higher to 21 points against 15 expected, which is keeping EUR/USD still bullish, trading around 1.2160 now, after making some new highs a while ago.
Sentix Investor Confidence – 10 May 2021
May Sentix investor confidence 21.0 points vs 15.0 expected
April investor confidence 13.1 points
That's a solid beat and the jump in investor confidence highlights the optimism surrounding the euro area and global economic recovery going into 2H 2021. The reading is the highest since March 2018 with Sentix highlighting that there are clear signs that the global economy is starting to overheat:
Overstimulation? The global economy is beginning to show signs of overheating. The situation assessments in all regions continue to improve. With the exception of Latin America and Eastern Europe, we measure positive values everywhere. The Corona-related recession phase has ended. At the same time, expectations remain high. Investors therefore expect a continuation of the current upswing, which is increasingly perceived as a boom. This has a noticeable effect on the situation on the bond markets. Investors expect reactions from the central banks.