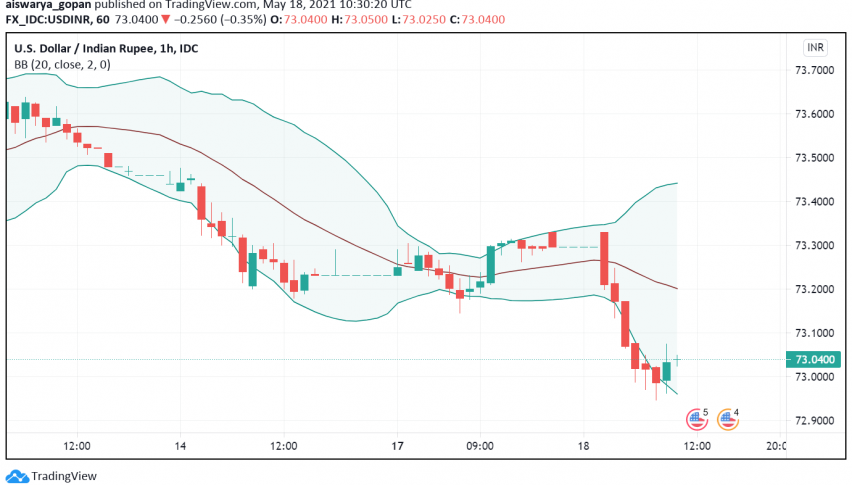 Can We See USD/INR's Bearish Moves Gain Strength Soon?
The Indian rupee is trading cautious against the US dollar as the COVID-19 crisis in India continues to wreak havoc on its economy, with USD/INR trading somewhat range-bound into Tuesday. At the time of writing, USD/INR is trading around 73.04.
After surging to a high of 75.63 in late April, USD/INR has been trading around the 73 level as fundamentals exert downward pressure on both currencies. The US dollar has been weighed down by market expectations for the Fed to remain dovish for a longer period of time, despite the US economy showing signs of recovery and amid the possibility of inflation climbing higher.
On the other hand, the Indian rupee has come under fire ever since the start of the second wave of the coronavirus pandemic, with the pair turning bullish like we had predicted in our previous forecast. The latest wave has seen the emerging economy post a record high tally of fresh infections on a daily basis, although there are some promising signs that the wave could be peaking soon.
Key Levels to Watch
On the 1-day price chart, USD/INR appears to be facing considerable selling pressure with leading technical indicators MACD and momentum signaling a bearish bias. The currency pair's immediate support level holds just under the 73 level, offering a very interesting opportunity to traders.
A break below this support level can drive further bearishness in the pair down to below the 72 level. On the other hand, if this support holds and buyers enter the market, we could see USD/INR strengthen towards 74.20 and make a play for the key 75 level again.