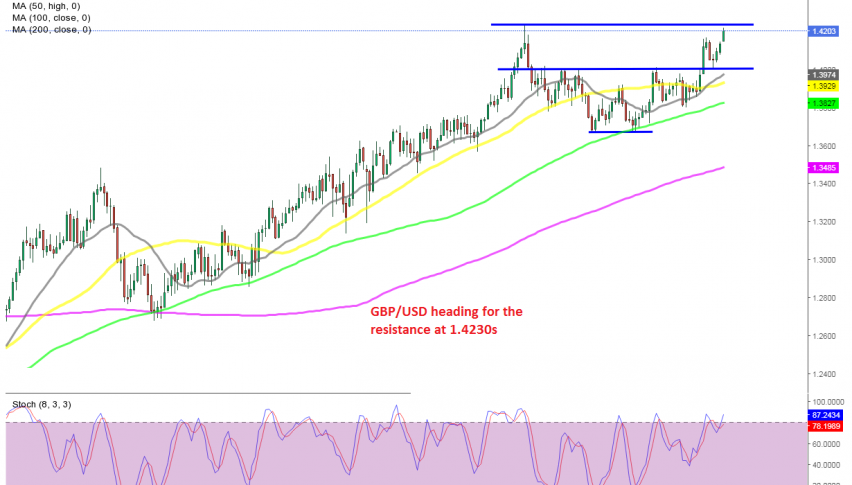 GBP/USD Heads for the Highs After Bouncing Off the 100 Daily SMA
GBP/USD has been really bullish since March last year, increasing more than 28 cents from the bottom at 1.14. The USD weakness has played a major part in this, but the GBP has also gained against other currencies, especially since the EU-UK trade deal at the end of 2020.
We saw a pullback in Q1 of this year, as the USD tried to turn bullish, but that didn't last long and the 100 SMA (green) held as support on the weekly chart. So, GBP/USD put a bottom at 1.3670s this year.
The price bounced off that moving average while last week the 1.40 level also turned into support, showing that the buying pressure is strong. Now this pair is heading for February highs at 1.4230s. The cool off in US housing starts during April, is not helping the situation either.
US housing starts and building permits for April 2021
April housing starts 1,569K vs 1702K estimate
March report was 1,739K, revised to 1,733K
Housing Starts  1,569K vs 1,702K estimate, or -9.5% vs estimate of -2.1%.
Building permits 1,760K vs 1,770K estimate, or +0.3% vs 0.6% estimate
Single‐family housing completions in April were at a rate of 1,045,000; this is 0.1 percent (±8.4 percent)* above the revised March rate of 1,044,000
Single-family starts 1,087K vs 1255K in March
Multi family starts 4,82K versus 478k last month
The numbers are somewhat of a surprise given the need for new housing (demand is clearly outstripping supply). However supply chain backlogs and higher material costs for things like lumber are putting a damper on building (at least for now). For the full report from the US Census Bureau,
click here.
Meanwhile Home Depot crushed earnings today citing unprecedented demand
Earnings per share: $3.86, vs. $3.08 expected
Revenue: $37.5 billion, vs. $34.96 billion expected
Consumers were also spending more during their visits. Average ticket rose 10.3% to $82.37.