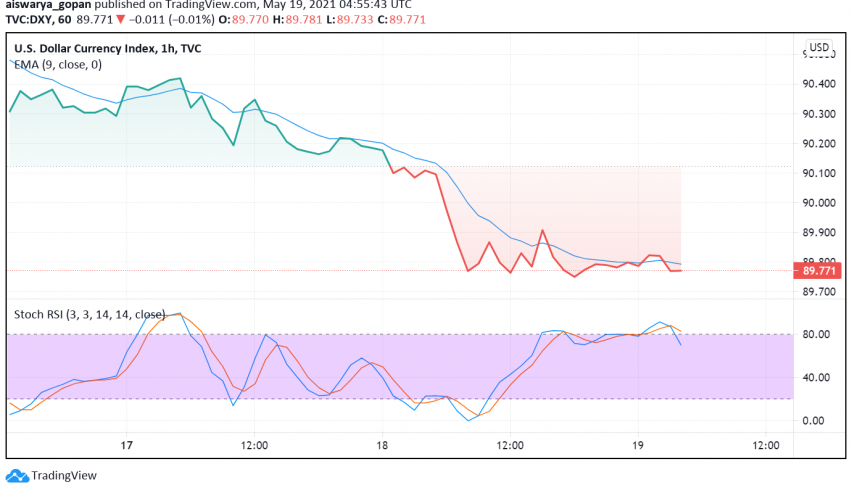 US Dollar Falls to Multi-Month Lows as Markets Expect Fed to Confirm Dovish Plans
The US dollar's weakness extends into early trading on Wednesday, with markets eagerly awaiting the Fed's minutes from its most recent meeting to shed light on possible reaction to rising inflation, keeping it close to the lowest level seen since six years against its major rivals. At the time of writing, the US dollar index DXY is trading around 89.77.
Even though the meeting minutes remain in focus, expectations are low for any surprises, anticipating that the officials will likely maintain their stance to continue holding interest rates close to zero and monetary easing until full recovery in inflation and employment. The possibility that the Fed will not hike rates anytime soon is exerting significant pressure on the greenback, keeping it weaker than other major currencies even as leading economies worldwide start recovering from the coronavirus crisis.
Later today, the focus will also be on inflation data from Britain and Canada to assess whether the price rise phenomenon is taking place in other economies as well, and if their respective central banks will react to such a development. For now, however, the GBP is holding strong near multi-month highs while the CAD has risen to the highest level since May 2015 against the USD.
Despite the stronger than expected US CPI print, Fed officials insist that there is no chance of overheating in inflation on the back of rapid economic recovery. They do, however, admit that there could be a rise in prices but that its effects will not last long enough to make an impact or require intervention.