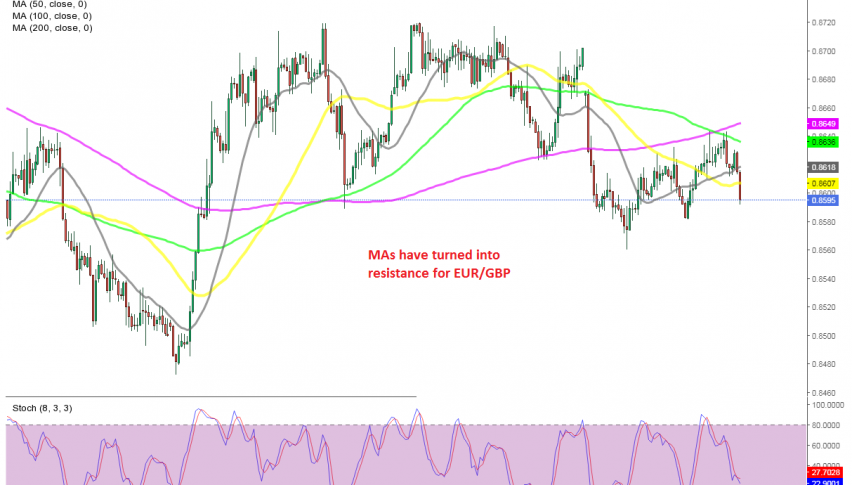 EUR/GBP Reverses Down, After Lagarde Pledges to Keep the Money Flowing
EUR/GBP has been on a bearish trend since early this year, after the EU-UK trade deal was reached, validating the Brexit deal. This pair lost more than 7 cents until the first week of April, when we saw a retrace higher, taking the price above 0.87.
But, the retrace ended earlier this month and the downtrend resumed again. We have had quite a few sell forex signals in this pair during the decline and opened another one late last week as the price retraced higher again, finding resistance at the 200 SMA (purple) and the 100 SMA (green).
Last night though we saw a reversal down after these moving averages ejected the price and today EUR/GBP is continuing lower, as the ECB president Christine Lagarde is commenting that the ECB will keep the policy loose, given the uncertainty, which I think will continue again. So, we are holding on to our signal, which is in profit now. Services also jumped higher in April, leaving behind recession now.
Remarks by ECB president, Christine Lagarde
Given uncertainty, accommodative policies remain necessary for months to come
Believes that we are in a recovery process
But the recovery is still uncertain
Euro area will go back to pre-virus levels in 2022
Inflation rise this year is temporary
ECB should see through temporarily higher inflation
Her comments on inflation are the more notable ones here but it fits with what most policymakers – especially the Fed – have been sticking with recently. Nobody wants to be the one to break the egg and the ECB certainly does not want any unwarranted rise in real rates despite projecting a calmer facade as of late.
EUR/GBP Live Chart
Latest data released by Markit – 21 May 2021
May flash services PMI 55.1 points vs 52.5 expected
April services were 50.5 points
Manufacturing PMI 62.8 points vs 62.5 expected
April manufacturing was 62.9 points
Composite PMI 56.9 points vs 55.1 expected
Prior composite PMI was 53. 8 points
This is an encouraging report as it reaffirms some pickup in services activity in the euro area as economies start to get back on their feet and move on from virus restrictions. The manufacturing sector is stalling a little but is keeping at robust levels overall.
Of note, new order inflows surged to its highest not seen in almost 15 years as business optimism continues to break new highs as sentiment surrounding 2H 2021 looks extremely positive. Markit notes that:
"Demand for goods and services is surging at the sharpest rate for 15 years across the eurozone as the region continues to reopen from covid-related restrictions. Virus containment measures have been eased in May to the lowest since last October, facilitating an especially marked improvement in service sector business activity, which has been accompanied by yet another near-record expansion of manufacturing.

"Growth would have been even stronger had it not been for record supply chain delays and difficulties restarting businesses quickly enough to meet demand, especially in terms of re-hiring. The shortfall of business output relative to demand is running at the highest in the survey's 23-year history.

"This imbalance of supply and demand has put further upward pressure on prices. How long these inflationary pressures persist will depend on how quickly supply comes back into line with demand, but for now the imbalance is deteriorating, resulting in the highest-ever price pressures for goods recorded by the survey and rising prices for services."
We decided to open a sell EUR/GBP signal after the bounce today, as German GDP posted a decline in Q4, ahead of the ECB meeting
1 day ago
EUR/USD has gained 14 cents since October, but might be time for a bearish reversal as economic dat improves in the US
1 day ago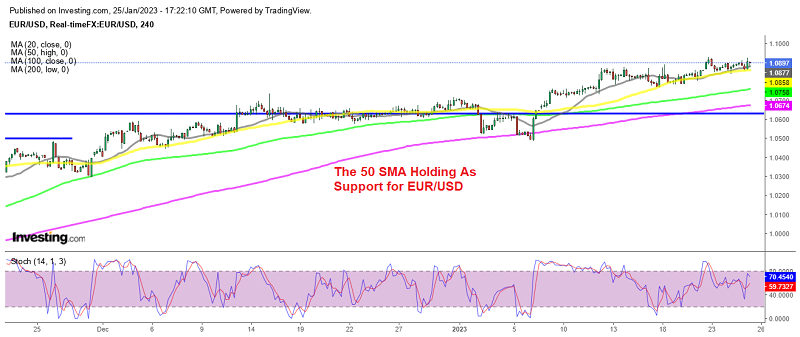 6 days ago