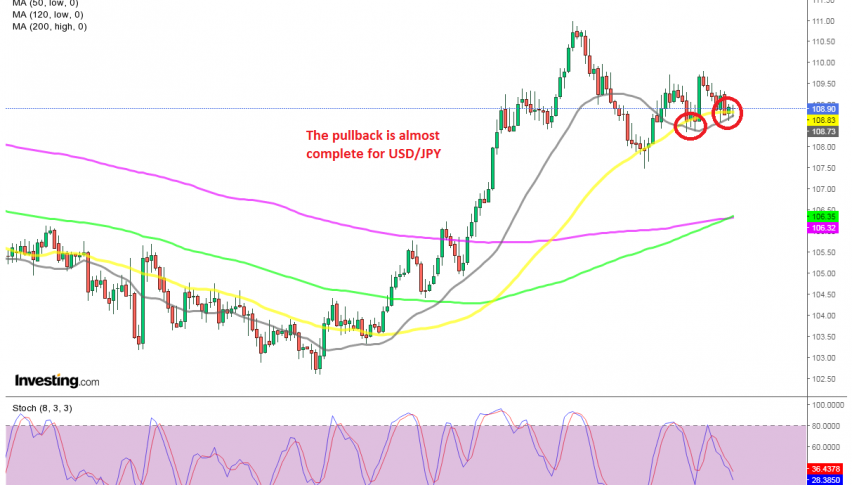 USD/JPY Remains Supported by MAs After BOJ Kuroda Comments
USD/JPY used to be bearish last year, as the USD was declining, but the JPY gained less against the USD, compared to other major currencies, which was a sign of weakness. This year the situation reversed and this pair climbed more than 8 cents from the bottom and the moving averages turned into support.
First the 50 SMA (yellow) on the daily chart and now the 20 SMA (gray) has caught up with the price, adding further strength to the support. The Bank of Japan governor Kuroda sounded optimistic a while ago, but the JPY still remains bearish and the USD/JPY remains supported by these two moving averages, so the next move here should be up. We might try to open a buy forex signal, with a stop below the MAs.
BOJ Governor Haruhiko Kuroda, at the BOJ-IMES Conference
We are starting to see light at the end of pandemic tunnel
The severity of the downturn during this recession has been particularly dramatic
Unevenness of recession, ongoing recovery could reinforce increase in savings, inequality, and debt
If growth is concentrated in a small fraction of society and inequality increases, difficult to achieve inclusive economic growth
Beginning to see light at the end of the pandemic tunnel but does not clearly reveal shape of society and economy that we are approaching
Mostly token remarks and nothing that really stands out too much as he doesn't really touch much on policy besides the responses that they undertook in managing the downturn last year and how they have slowly progressed from there.