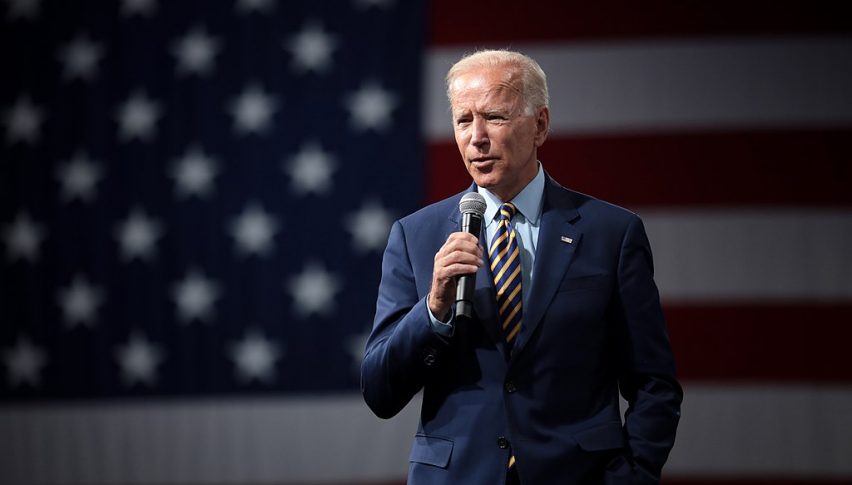 Biden Administration Proposes $6 Trillion Federal Budget
Joe Biden has unveiled his first federal budget as POTUS and it's a doozy. In all, the proposal calls for $6 trillion in spending focussed on infrastructure, education, childcare, green energy, and administrative costs. If Biden's proposal passes Congress, government spending will reach levels not seen since WWII. Given the Democrat-dominated House of Representatives and Senate, it will be a surprise if the budget doesn't become law very near its original form.
On Wall Street, traders are liking the massive spending outlined in the 2021 budget. At the midway point of the U.S. session, the DJIA DOW (+145), S&P 500 SPX (+17), and NASDAQ (+80) are all in the green. The U.S. dollar is trading largely sideways, losing vs the GBP but rallying modestly against the CHF, JPY, and CAD.
Biden's first budget proposal can be safely described as "extreme." Here's a look at the broad strokes:
$2.3 trillion in spending for infrastructure

$1.8 trillion for childcare and education

$1.0 trillion request for annual operating expenditures including defense and administrative costs
No doubt about it, this is a big spending package. Treasury Secretary Janet Yellen has gone on record in support of the spending: "I believe it is a fiscally responsible program." At this point, the markets aren't phased by Biden's lofty 2021 budget proposal.
Biden Budget Draws Bids To U.S. Large Caps
At press time, the DJIA is trading above 36,500. For now, it's all-systems-go for U.S. large caps.
Overview: The Biden budget may shape up to be a real game-changer. The infrastructure spending is likely to benefit the companies of the DOW 30, as "infrastructure" is now being interpreted to mean a variety of things. It's no longer roads and bridges ‒ green energy, technology, and education now qualify. So, is the spending justified? The answer to that question depends on which side of the political aisle you're on.
The US dollar was higher and will end this week on the bullish track as traders awaited US inflation data later in the day, which might...
1 year ago