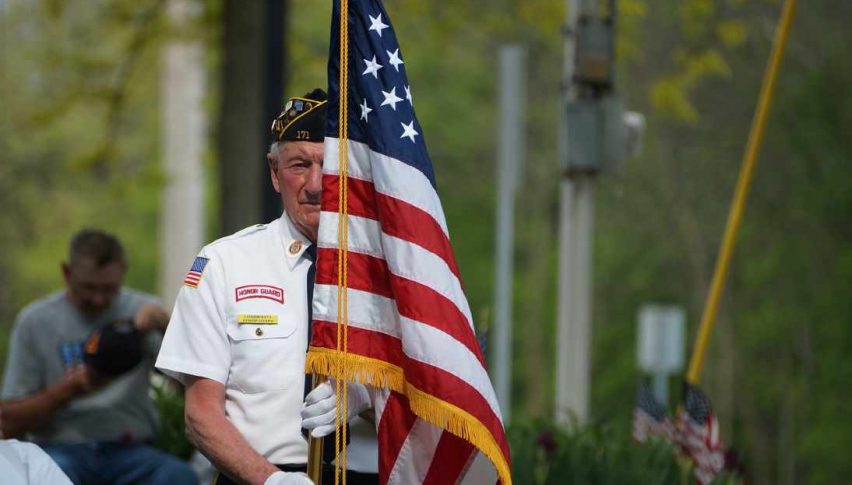 Wall Street Takes A Break For Memorial Day
It's Memorial Day in the United States and that means the equities markets are closed for business. Traders are taking a break from buying and selling their favorite stocks, instead choosing to go on holiday. However, the forex and crypto markets are open, each showing moderate participation. The biggest movers have been Ethereum ETH and Ripple XRP , both of which are up more than 10%.
On the economic news front, there isn't anything scheduled for today's U.S. session. Holiday calendars are typically vacant; this is certainly the case today. Nonetheless, Tuesday will be a much different story, as a group of construction reports and the ISM Manufacturing Index (May) is due for release.
One of the great things about a holiday is that it gives active traders a chance to reflect. For today, let's take a look at the DOW and see where this market stands.
DOW Close To All-Time Highs On Memorial Day
Going into tomorrow's post-Memorial Day session, the DOW is trading very near 34,500. A bullish bias is warranted as U.S. stocks are feeding on boosted inflation and the Fed's extended "QE unlimited" policy.
Overview: There really isn't a whole lot to say about the American equities market on Memorial Day 2021. Values continue to rise as government spending is about to hit its highest level since WWII. And, although inflation is becoming a factor, the Fed seems committed to holding rates flat until at least 2022. For now, the COVID-19 recovery mantra remains intact ‒ that means the DOW is going higher and the USD is headed lower. It's as simple as that.