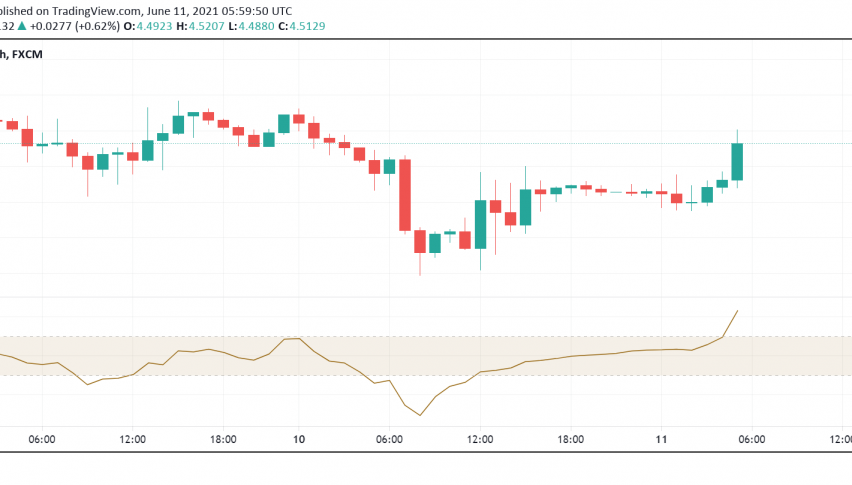 Copper Faces Uncertainties Amid China's Pledge to Combat Price Rise
Copper has recovered above the key $4.50 level early on Friday but still faces considerable pressure over the rising possibility of China's government implementing price control measures to combat the recent surge seen in commodity prices. At the time of writing, COPPER is trading at around $4.51.
The long-term outlook for the industrial metal remains bullish, powered by rapid economic recovery around the world. As countries emerge out of lockdowns and manufacturing industries experience a revival, markets are facing another challenge – that of raw material shortage and soaring costs, which raises the possibility of government intervention with price control measures, which could dampen the mood among investors in the commodities' markets.
Copper finds some support from a recent report on Forbes about the rising demand for the metal among ammunition manufacturers, with gun sales soaring to record highs amid the ongoing pandemic fueling higher unrest and crimes. The metal is a key ingredient used in the manufacture of bullets, in addition to finding constant when it comes to transmission of electric power all over the world.
The report also highlights the boom in demand for copper across China, which is rebounding sharply from the coronavirus crisis and requiring significant supply of the metal to support its construction sector. The metal also plays an important role in the semiconductor industry and is required for the manufacture of microprocessors and chips.
Chinese authorities have pledged to implement measures to control the price surge in commodities. This came on the back of a sharp rise in producer prices across the world's second largest economy, with the PPI touching the highest levels seen in over 12 years during the month of May.