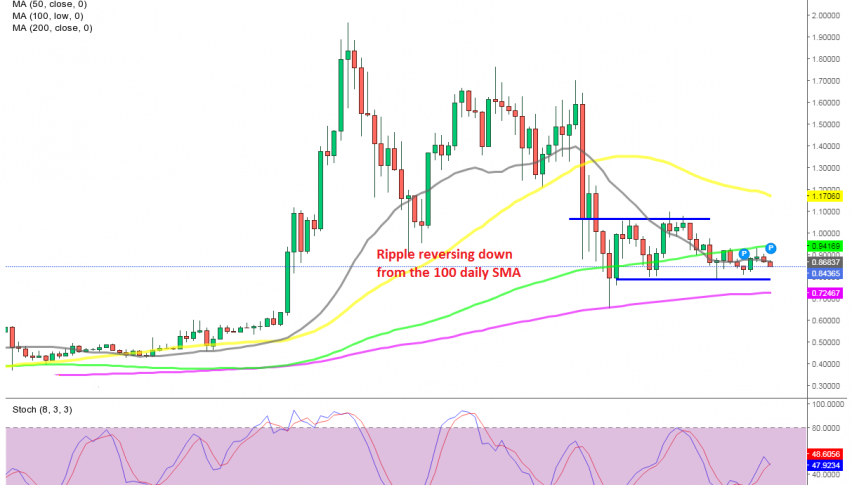 Ripple XRP Forms A Bearish Reversing Pattern, After Failing to Break the 100 Daily SMA
Ripple coin made a massive surge in the first two weeks of April, after it climbed from $0.50 to $1.97. Although it retreated lower in the second half of that month and despite resuming the buillish momentum again, it couldn't make new highs if the first half of May, while some other cryptos like ETHEREUM and LITECOIN continued to surge.
The crash in the crypto market came and it sent Ripple diving lower to $0.66. That's where the 200 SMA (purple) was standing on the daily chart, which provided solid support for XRP/USD. The legal process with SEC is also weighing on Ripple, but yesterday I saw a post where a post written together by Jay Clayton, the former Chair Of the United States Securities and Exchange Commission (SEC) and Wall Street Journal (WSJ).
The post explained the stance of different digital currency firms which is "Crypto needs regulation, but it doesn't need new rules". Does this mean that the legal battle might be drawing to a conclusion soon?
Ripple Live Chart
Anyhow, RIPPLE remains quite uncertain as we explain on the 2021 Ripple forecast, after coming back down following the bounce off the 200 daily SMA. On Monday we sw  another attempt to turn bullish as Bitcoin was pulling the reso of the crypto market up with it, but Ripple didn't really make much of that bullish momentum.
The 100 SMA (green) turned into resistance and the price formed an upside-down candlestick, which is a reversing signal. Yesterday and today Ripple has retreated again and is heading for the first support at around $0.79m while the next one comes at the 200 SMA at $0.72. We are already long on Ripple, but these two levels are good to buy XRP/USD.
The trading range is getting extremely tight for Shiba Inu and Dogecoin, suggesting a breakout
7 hours ago