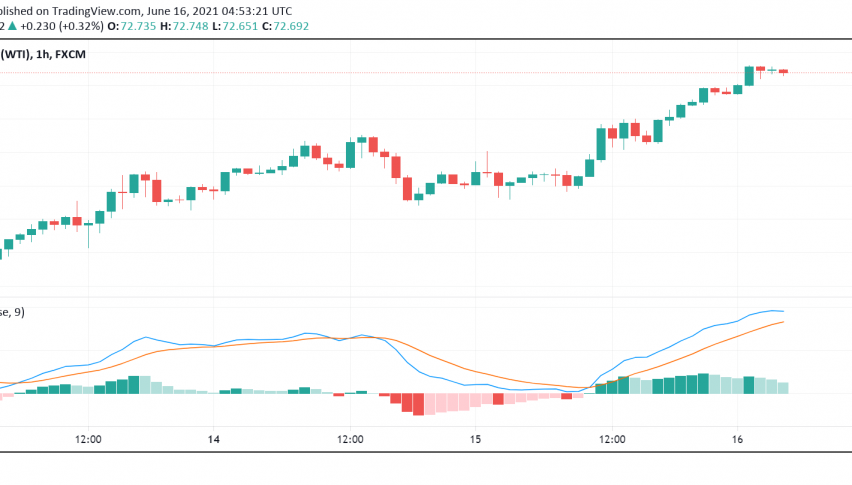 WTI Crude Oil Prices Rise as Sentiment Improves, Crude Stockpiles Fall
Crude oil appears to be on a bit of a bull run lately, with the prices of UK oil rising for five straight sessions while US WTI oil also extended its gains into Wednesday. At the time of writing, WTI crude oil is trading at around $72.69 per barrel.
Investors and analysts have turned extremely bullish about oil prices, anticipating that they will continue to climb higher in the coming weeks and months as economies emerge from lockdowns and work their way back towards recovery. With the summer approaching, oil traders are hopeful about oil demand surging in the US and Europe, as people get more confident about stepping out and traveling after the widespread rollout of COVID-19 vaccines in these regions.
WTI crude oil prices received an additional boost in the previous session following the release of the API report which revealed a bigger than expected drop in US crude inventories. According to the institute, crude stockpiles in the US fell by 8.5 million barrels over the past week, against economists' forecast for a 3.3 million barrel drop instead.
In addition, during the previous session, the largest oil traders around the world forecast oil prices to remain above the key $70 level into H2 2022. They have optimistically projected that oil demand could rebound completely to pre-pandemic levels in the coming months as the vaccine distribution spurs confidence in reopening economies after multiple rounds of lockdowns and restrictions owing to the pandemic.