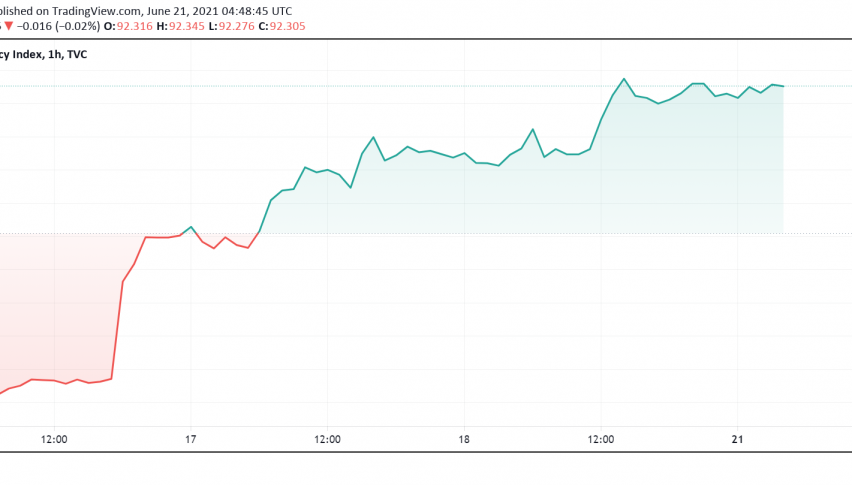 US Dollar Still Trading on a High as Markets Expect Fed to Turn Hawkish Soon
The US dollar extends its bullish mood into a fresh trading week, trading close to the highest levels seen since several months against its major rivals, with markets still cheering a more hawkish tilt among Fed policymakers in the most recent FOMC meeting. At the time of writing, the US dollar index DXY is trading around 92.30.
Over the past week, the dollar index registered a gain of 1.9%, marking the strongest weekly performance seen since March 2020. This comes after several weeks of bearish pressure amid uncertainty of rising inflation and the Fed's continued insistence of sticking with its original plan to remain dovish until a full rebound in employment and inflation.
The US dollar's resurgence has pushed other majors to trade under pressure, with the EUR dropping to a 10-week low in the previous session while the GBP fell to the lowest levels seen in two months. Meanwhile, leading commodity currency AUD has posted a slight recovery and returned above the key $0.75 level after falling to a six-month low.
In addition to the latest FOMC statement, bullish moves in the greenback were further reinforced after St. Louis Fed President James Bullard indicated an even more hawkish stance, expecting the Fed to hike interest rates as soon as next year. He added, "We're expecting a good year, a good reopening. But this is a bigger year than we were expecting, more inflation than we were expecting. I think it's natural that we've tilted a little bit more hawkish here to contain inflationary pressures."
The USD ended up higher after the last FED meeting, so today's FOMC minutes point to more bullish momentum for the USD
1 month ago