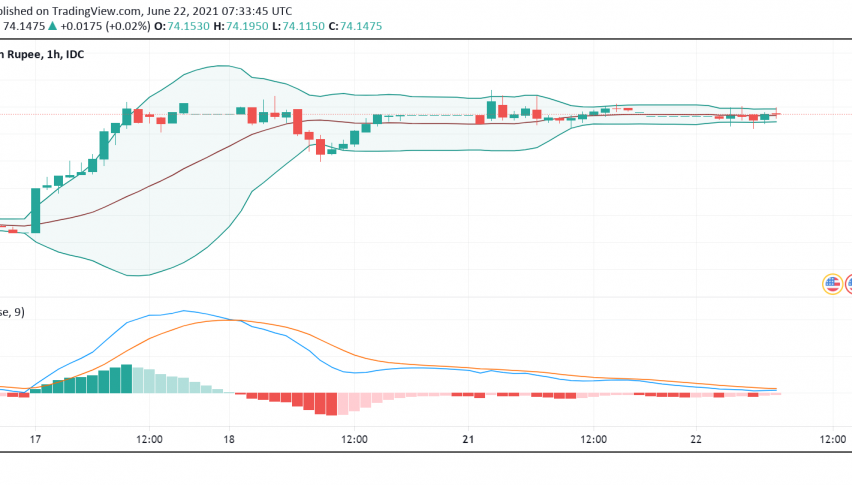 USD/INR Trades Above 74.00 Level: What's Happening?
The USD/INR currency pair is exhibiting signs of bullishness on Tuesday, rising above the 74.00 level and extending its uptrend ever since the Fed came out sounding more hawkish than expected in its latest meeting during the previous week. At the time of writing, USD/INR is trading around 74.14.
Most of the price action in this currency pair has been dictated by fundamentals on the US dollar side, especially since markets have been assured that the Fed could consider hiking interest rates and starting discussions around tapering off asset purchases sooner than planned. This has renewed investors' interest in the greenback, powering the recent bullish moves in USD/INR.
However, gains in the currency pair could be limited by some positive developments that could lend support to the Indian rupee in the near-term. The second wave of the coronavirus pandemic has clearly peaked and is easing lower across India, with the daily tally of fresh infections falling below 50,000 and recoveries exceeding fresh cases for 40 straight days even as COVID-19 vaccination rollout picks up pace across the nation.
Rising crude oil prices have also contributed to the recent bullish moves in USD/INR. India is one of the leading importers of crude oil and higher oil prices weigh on its economy, keeping the Indian rupee under pressure.
Later today, USD/INR could experience some movement following Fed Chairman Jerome Powell's testimony before Congress. In case Powell shares any insights on a possible timeline by when the central bank could wind up its monthly asset purchase program, the currency pair could turn even more bullish in the near-term.