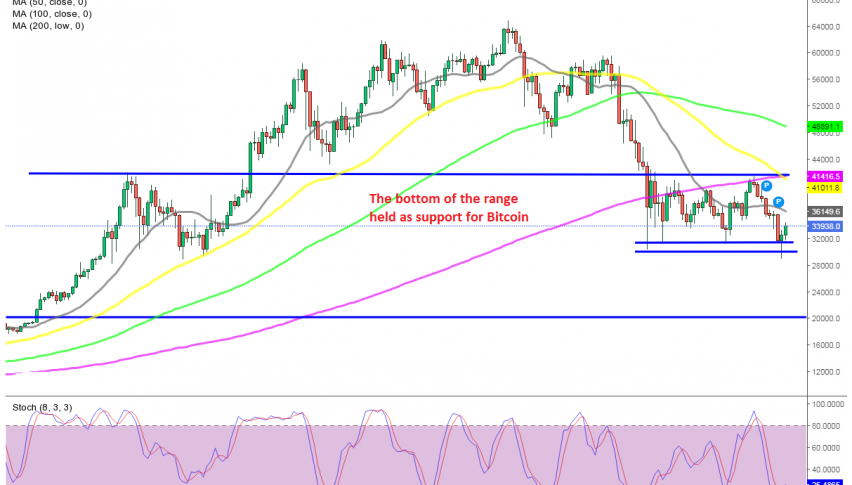 Bitcoin Bouncing up From the Bottom of the Range Again, After the Fake-Out Yesterday
Bitcoin has been trading within a range since the crash in the crypto market in the middle of May, with the ultimate support down at $30,000. The whole crypto market has been trading sideways, with the uncertainty remaining high, as China continues the crack down on cryptos, while other countries are legalizing them.
Yesterday we saw an attack to the downside though, after this market had been declining for about a week, since most cryptos failed at the top of the range. Bitcoin found resistance at the 200 SMA (purple) on the daily chart, as it reversed down after forming a doji candlestick.
The sentiment continued to remain negative, and we saw a breakout for a moment yesterday, as cryptos broke May's lows. Bitcoin pushed below the support at $30,000, which once again stirred up the panic in this market for a while.
But, it didn't last long before we saw a reversal higher. It formed a hammer daily candlestick, which is a bullish reversing signal after the decline. Today's candlestick looks bullish too, so a reversing pattern is forming here, pointing to the top of the range for Bitcoin. We didn't buy, since we had several trades on other cryptos, but the stochastic indicator is oversold as well, and it is reversing higher now, so we might go long on Bitcoin soon.