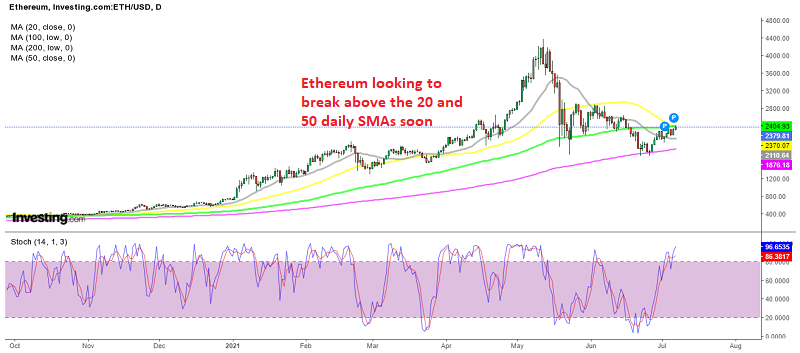 Ethereum Looking Bullish Again, Pushing Against the Resistance
Ethereum started to take the lead in the crypto market during the latest bullish push in May, which sent the price to $4,380s. Most of the market, including Bitcoin, was stagnating or retreating lower, but the ETH/USD, with a bunch of other cryptos, kept pushing higher, which was a good sign for Ethereum.
Ethereum did crash, along with the rest of the cryptocurrency market, losing more than 60% of its value, but it is looking like it wants to take the lead again. The decline seems to have ended now, after it found support at the 200 SMA (purple) twice and a bounce that followed.
The bounce took the price to the 100 SMA (green), which acted as support for about a month, until the middle of June. This moving average stopped the climb last week, but buyers are having another go at it, without waiting for the price to fall to the 200 daily SMA again.
This again shows the resilience in ETH, as Ethereum's London hard fork is expected to launch on August 4. The release of Ethereum 2.0, which this hard fork is part of, will replace Ethereum's current proof-of-work with the proof-of-stake protocol, which is less energy-consuming.
This is keeping the sentiment bullish for ETHEREUM, despite the war on cryptocurrencies from the Chinese, US and UK authorities. If Ethereum manages to push above these two moving averages, it would open the door for $2,900 and $3,000, since there are no more obstacles above this. That would also improve the sentiment for the whole cryptocurrency market, since it would put Ethereum back on the bullish trend. But, let's see if buyers can overcome this obstacle at $2,400 first.