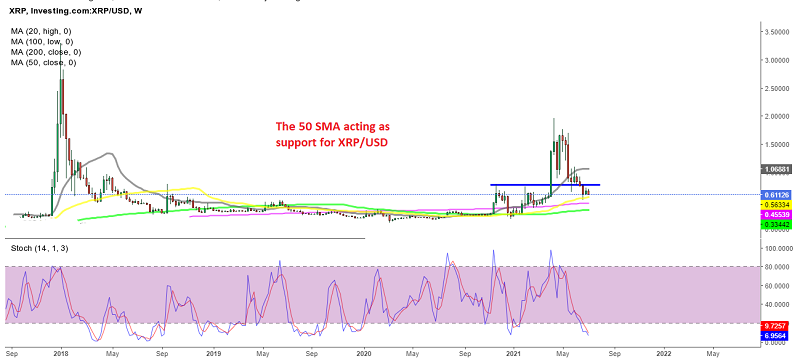 Can Ripple XRP Bounce Off the 50 Weekly SMA and Reverse the Bearish Trend?
Ripple coin (XRP) turned massively bullish in the first half of April, surging from around $0.50 to almost $2, although, the surge came later compared to the rest of the crypto market, which started the strong bullish run at the end of last year. Besides that, the bullish run stopped in April, while a number of cryptos continued to surge higher until the middle of May. These were bearish signs for Ripple, but no one expected the crash that was to come in the following weeks.
China started the crackdown on cryptocurrencies in May, accelerating the war, which has been keeping the sentiment bearish, together with the Ripple-SEC legal battle that is also hurting the sentiment, particularly for Ripple, as highlighted in the 2021 forecast for XRP.
Ripple coin reversed down, and the 20 SMA (gray) has been acting as resistance for more than a month on the daily chart, pushing the price down since the beginning of June. The bullish moves are getting smaller every time, while the lows are getting lower, and if this sort of price action continues, we will probably see new lows this month.
The 50 SMA is providing support on the H4 chart for now
The price has declined below the highs of Q4 2020, which were acting as support in May, so that's another bearish sign. But, the 50 SMA (yellow) has now turned into support on the weekly chart, so there's a chance that we might see a bounce from here. We hope the XRP/USD turns bullish soon, since we are already long from higher up and the stochastic indicator is oversold on this pair, which shows that the selling might have reached its limits.
Ripple executive Matt Hamilton said earlier today that Ripple's "use cases are basically the same as Bitcoin's, so Ripple is a decentralized Bitcoin for making peer-to-peer payments, without a trusted third party". Besides that, John E. Deaton, who is a popular legal expert in the crypto community, and Founder and Host of CryptoLaw, rejected SEC's 'Utility' argument about Ripple in the lawsuit against Ripple, arguing that the growing use of Ripplenet, with over 1,300 companies using it, makes SEC's "XRP lacks utility" argument not so valid. But, the establishment has opened a war on cryptos, so it doesn't matter what Ripple coin is – the battles will continue. Therefore, brace on, Ripple traders.