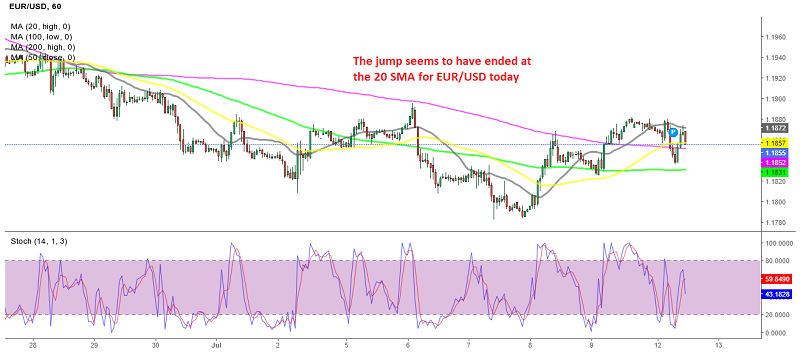 Taking a Short in EUR/USD and NZD/USD, as US Inflation Expectations Pick up Further
The US Dollar was in a major downtrend from March last year, as the FED and the US government turned very dovish, loosening up incredibly on monetary and fiscal policy. The EUR/USD surged to 1.2360s by the beginning of January, while the AUD/USD and the NZD/USD gained around 25 cents.
But, the sentiment seems to have changed for the USD, with the USD index DXY trading 3 points higher from the lows earlier this year. The EUR/USD tried to turn bullish again after the retreat to 1.17 towards the end of March, but it failed to make new highs for the year, or even to reach the previous ones.
EUR/USD Live Chart
That was a strong bearish sign, while now the FED is starting to turn hawkish –  it's still a bit early to bet your house on it, but it's in a better position than the ECB (European Central Bank). So, the USD is turning bullish, particularly against the Euro.
The retrace ended at the 100 SMA for the NZD/USD
The NZD is also turning bearish, after having lost around 350 pips in the last three weeks. We saw a retrace higher in the NZD/USD earlier today, but it seems to be ending after the New York expectations for household inflation  increased in June. So, we decided to take a short position in these two forex pairs, with the retrace higher already fading now.
Highlights of the NY household survey
1-year ahead, inflation expectations rose to 4.8%, from 4.0% in May – series high (since 2013)
Median 3-year inflation expectations 3.6%, unchanged from May
Uncertainty regarding inflation for short and medium-term unchanged
Series low of 30.7% or respondents saw higher unemployment a year from now
Series low of 10.9% in perceived probability of losing one's own job over the next year
Perceived probability of finding a job after losing one's job rose to 54.2% from 50.0% in May
Americans are feeling good about the job market, but that rise in inflation will get the Fed's attention. Tomorrow we will finally get the CPI report, which is expected to come in at 4.9%. Below is the chart: