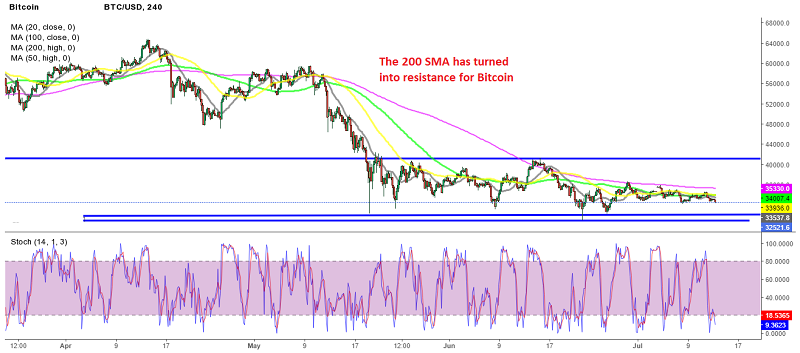 Does the Risk/Reward Justify Buying Bitcoin (BTC) Now, as it Approaches $30,000 Once Again?
Bitcoin has been providing traders with some nice trading opportunities this year. Initially it kept presenting buying opportunities during the dips, as the trend was immensely bullish in the first four months of this year. Then, after the crash in May, traders were buying this digital coin again in the $30,000 support zone.
Despite being bearish since May, the area surrounding the $30,000 level has been acting as solid support, offering many opportunities to buy down there and unload higher up. But, the highs have been getting lower since the crash; buyers were unloading their positions above $40,000, then they kept retreating, and in the last attempt, the price didn't even reach $35,000.
Although the volatility has decreased for Bitcoin and all other cryptos in the last few weeks, the $30,000 area has still offered some good risk-reward ratio, with the stop below $29,000, and the take profit target above $35,000. Now, the price is heading down again, which looks temping if it gets close to $30,000. But, the highs have been getting lower, as mentioned above, which makes the profit target smaller.
So, the question now is whether going long on Bitcoin justifies the risk/reward (R/R) ratio. Trades should be closed below $35,000 now, probably close to $34,000, since the high is expected to be lower than the previous one. Well, this might be more of a gut trade, because the selling pressure has also declined, which points to a possible long-term bullish reversal, if sellers stop selling soon.
After following the price action, we will assess whether to go long when the BTC/USD falls closer to $30,000. You can follow our live trades on our forex signals page. The USD dollar has just gone higher after the jump in the CPI (Consumer Price Index) inflation numbers for June, which were released on today's CPI report a while ago. We booked profit on our forex signals in USD pairs after this  jump.