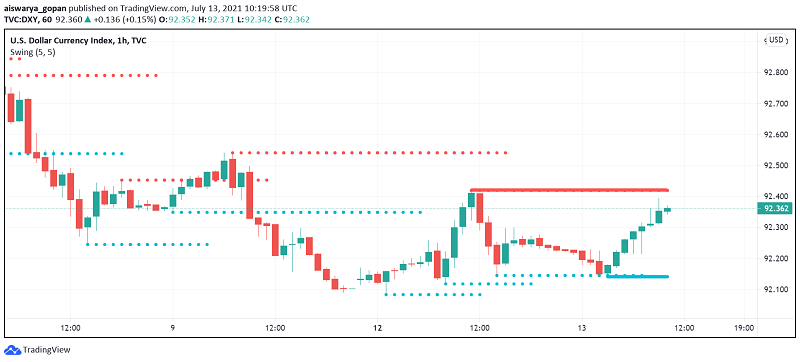 US Dollar Trades Strong Even as Markets Await CPI Data
The US dollar is holding strong prior to release of the CPI data later in the session, even as investors cautiously look for clues from this release on when the Fed could begin tapering monetary stimulus and consider its first rate hike since the pandemic began. At the time of writing, the US dollar index DXY is trading around 92.36.
The CPI figures have gained significance as investors worry about the effect of rising inflation on economic recovery even as the Fed maintains that its effects could be transitory. Some investors still expect higher inflation to convince the Fed to step in sooner than planned, especially if it overshoots the central bank's target and hurts consumer sentiment.
Even as the Fed signaled an interest in shifting to a hawkish outlook, the ECB President confirmed plans to remain dovish for a longer period of time, driving weakness in the common currency. Lagarde's comments caused EUR/USD to slide lower, after she maintained that the central bank had no plans to hike rates or taper its bond purchases anytime soon.
Meanwhile, moves in other leading currency pairs remain limited as traders await the economic data release in the US session before entering the market. As a result, the US dollar has strengthened slightly against majors, including GBP, AUD, NZD and even safe haven JPY.
Ever since the Fed's most recent policy meeting signaled an interest towards reversing the dovish outlook, the US dollar has gained almost 2% against its major peers. All eyes are now on consumer prices as a stronger than forecast rise could boost US Treasury yields and support the greenback's bullishness further.