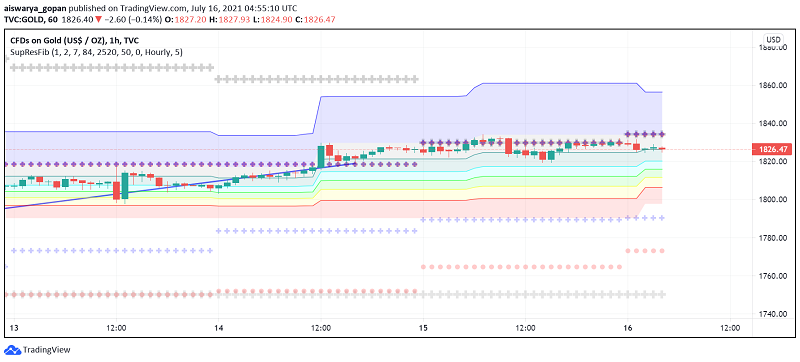 Safe Haven Gold Gains as Dovish Powell, Resurgence of Cases Support
Leading safe haven metal gold is set to register gains for the fourth consecutive week amid rising concerns over the spike in fresh COVID-19 cases around the world as well as Fed Chair Jerome Powell's dovish remarks at his congressional testimony. At the time of writing, GOLD is trading at a little above $1,826.
At his recent testimony before the Senate Banking Committee, Powell reaffirmed his dovish stance, stating that he expected the effects of high inflation to be transitory and that the Fed will do all that it can to support the US economy's complete recovery from the pandemic-induced downturn. His comments about extending stimulus efforts lent support to the safe haven appeal of gold, which tends to gain as an investment when central banks ease monetary policy and keep interest rates low.
Gold also received support from recent economic data releases from China which showed that its strong pace of rebound could be slowing down. Companies in China are experiencing challenges due to fresh outbreaks of COVID-19 cases and rising costs of raw materials, which have increased expectations for more assistance from policymakers to support the economic recovery.
On the supply side as well, the yellow metal received a boost after one of the producers, Barrick Gold Corp revealed a reduction in gold production by 5.4% QoQ in Q2 2021. With the production declining even as its demand remains strong among investors, the precious metal's prices got another reason to climb higher.
So far this week, gold prices have strengthened by 1.2% and are also remaining in favor among investors amid a risk-off mood over the recent resurgence in COVID-19 cases around the world. The spread of the highly contagious delta variant has raised concerns that the global economic recovery could be delayed, keeping investors wary and moving towards the safety of gold and away from riskier instruments.