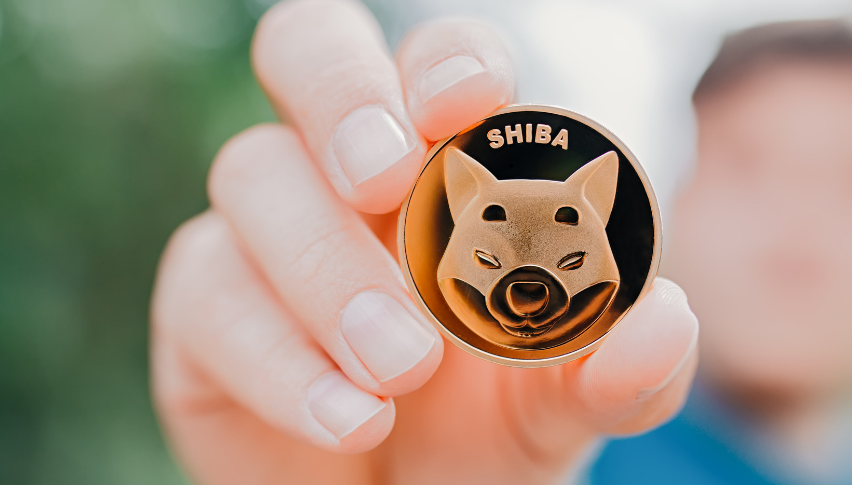 Shiba Inu Heading to June Lows After Making Lower Lows Amid Crypto Rout
Posted Monday, July 19, 2021 by
Eric Nkando
• 2 min read
Shiba Inu has been touted as an alternative to Dogecoin. The coin, which was launched in August 2020 is nicknamed the Doge Killer – a name it earned through being mentioned by
influencers.
The company's website describes the coin as a decentralized meme coin, similar to what investors have known Dogecoin to be in the crypto ecosystem.
Until now, Shiba Inu's bright start has been dented by the broader crypto route, and it is now heading towards the lows reached last month.
SHIB/USD – A Technical Outlook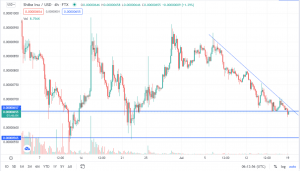 SHIB/USD 4H Chart Analysis
Looking at the SHIB/USD on a 4-hour chart, the price has been on a solid downtrend since July 6. Prices have been making lower highs and lower lows, confirming the strong downtrends and remaining within the bearish trendline.
The SHIB/USD was temporarily contained at the 0.00000658 minor support level, but the pair has now managed to break lower, under the descending triangle.
Observed on a 4-hour chart, Shiba Inu is retesting the 0.00000658 level, which could act as the new resistance level.
Could we See More Weaknesses in SHIB?
Shiba Inu could break down further, to hit the lows of around 0.00000565 that it reached on June 12 and 22. Already, prices have broken below the previous support, making the June lows a realistic target for the coin.
This is why:
Crypto bloodbath – Broader weaknesses in the cryptocurrency industry are putting pressure on Shiba Inu. With prices dropping across the board, I do not expect Shiba Inu to be an exception, and further drops are likely.
Dollar strength – The greenback has shown a lot of strength lately, compared to other major currencies. Talks of bond tapering and rate hikes by the Fed have been responsible for the strengthening of the US dollar.
The dollar is also supported by global concerns about the emergence of new coronavirus strains. With the US currency acting as a safe haven, investors could run into the USD, prompting a further rise in value that could weaken Shiba Inu more.
Shiba Trade Idea
I recommend a sell trade on SHIB/USD, based on the above-mentioned technical and fundamental analysis. However, I will be looking at the formation of a potential sell trade signal around the 0.0000658 support level, which is now turning into a resistance area.
For a sell trade, my targets will be:
0.00000608 – Although this area has no confirmed support or resistance level, prices have shown some indecision and this could be a potential area for taking some profits before prices drift further down.
0.00000565 – This area has acted as support previously, and it would be my second target for
sell trades.