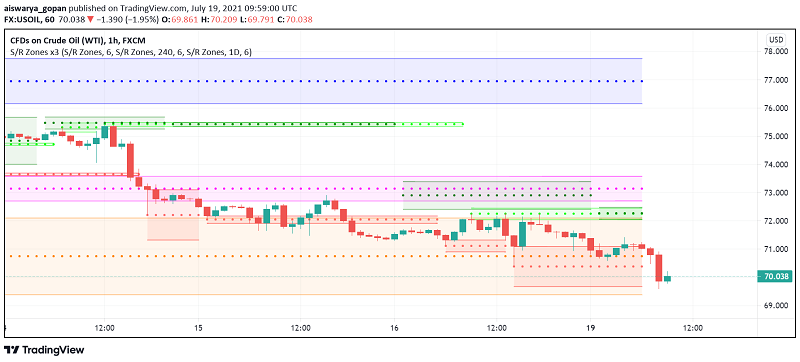 WTI Crude Oil Falls After OPEC+ Agrees to Ease Supply Cuts Further
WTI crude oil is starting the fresh week on a strong bearish note, with prices sliding lower after the OPEC and its allies reached an agreement over the weekend to raise oil output starting next month. At the time of writing, WTI crude oil is trading at around $70.03 per barrel.
In their most recent meeting a few weeks back, OPEC+ countries were unable to agree on reducing the severe supply curbs, resulting in a falling out over the issue between Saudi Arabia and the UAE. However, over the weekend, the group of leading oil producing nations confirmed that they will start producing more oil after oil prices soared to multi-year highs and started weighing on consumers and economies as they try to emerge from the coronavirus crisis.
After tightening oil supply by as much as 10 million bpd to offset the sudden drop in demand caused by the lockdowns worldwide when the pandemic first struck over a year ago, OPEC and its allies had eased the supply curbs gradually over the past few months. Currently, they stand at around 5.8 million bpd, which will ease by around 2 million bpd by the end of the year. The OPEC group also confirmed that they expected supply cuts to end by September next year.
US oil lost almost 4% of its value over the past week as markets turned increasingly worried about the resurgence of COVID-19 infections across the world and its impact on economic recovery. The spread of the highly contagious delta variant is forcing several governments to bring back restrictions and lockdown measures which are likely to weaken oil demand.
Looking ahead, this week's focus will remain on the ongoing COVID-19 crisis which has started flaring up once again around the world. Several countries, including in the West, are reporting an increase in fresh infections, which raises the likelihood of more restrictions that could dent oil consumption once again.