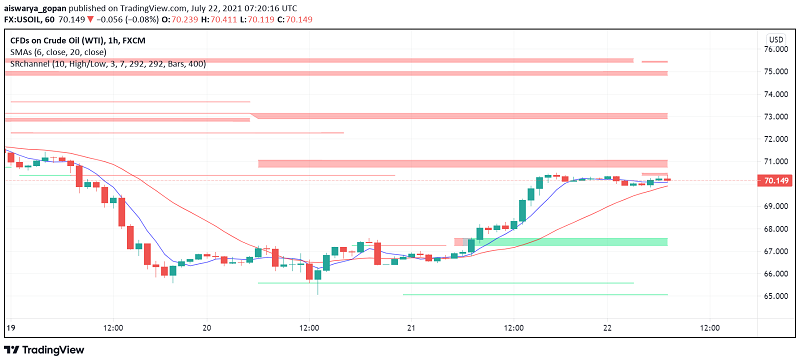 WTI Crude Oil Enjoys Support From EIA Reporting Drawdown in Gasoline, Distillate Stocks
WTI crude oil is holding strong into early trading on Thursday, supported by expectations of demand improving even though the EIA data released in the previous session revealed a surprising build in US crude inventories. At the time of writing, WTI crude oil is trading at around $70.14 per barrel.
According to the EIA, crude stockpiles in the US increased by 2.1 million barrels over the past week to 439.7 million barrels, marking their first build-up since May. The data went unexpectedly against economists' forecast for a drop by 4.5 million barrels instead. On a positive note, however, gasoline and distillate inventories experienced drawdowns of 121k and 1.3 million barrels, reassuring markets that fuel demand in the world's largest energy consumer was continuing to pick up.
According to analysts from JPMorgan, global oil demand could improve by 5.4 million bpd from April to 99.6 million bpd on average by next month. Investors, however, remain cautious about the impact of the latest wave of COVID-19 infections around the world on oil demand. With several countries announcing lockdowns and restrictions, there are concerns that oil demand could dip after rising over the past few months.
Earlier in the week, crude oil prices had fallen after OPEC+ announced their plan to gradually bring down their production curbs by 2 million bpd starting next month until the end of the year. The possibility of higher supply in global markets brought down oil prices from multi-month highs, offering some relief to several economies.