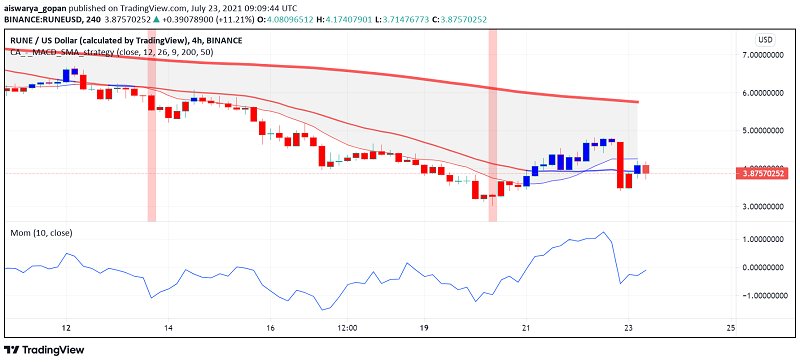 RUNE Crashes as THORChain Suffers Second Exploit in a Week
One of the popular cross-chain exchanges, THORChain (RUNE), has suffered another attack, with hackers camping off with as much as $8 million, as per a report on Coindesk. At the time of writing, RUNE/USD is trading at around $3.87, down by over 17% since the past 24 hours.
The hacker was able to trick the Bifrost Protocol into receiving a deposit of fake assets through the deployment of a custom contract. Following this the THORChain network processed a refund of real assets back to the hacker, leading to the successful exploit via the ETH Router.
This is the second attack on the blockchain protocol in a week – last week, hackers camped off with 4,000 ETH before network administrators noticed the attack and brought it to a halt, preventing further losses. The vulnerability exploited in the previous hack has since been fixed and administrators have urged node operators to update their software to remedy the situation.
The THORChain is a popular protocol that lets users swap native crypto assets like BTC and ETG between different blockchain networks without the need for wrapping them as tokens for use on other blockchains. Built on Cosmos – also known as the "Internet of blockchains", It leverages a 'chaosnet' which works as a cross-chain DEX without the need for a centralized exchange that controls users' funds.
Key Levels to Watch
Taking a look at the 4-hour chart of RUNE/USD, we get an unsurprising look at the strong bearish bias as revealed by the averages and the MACD indicator. However, the momentum indicator signals some buying interest as well, in line with the positive market sentiment prevalent among cryptocurrencies overall at the moment.
The price is sitting well below the pivot point at $8.31 but holding above the support level at $2.81. Further selling pressure can cause the THORChain's price to break down under this level.