THORChain (RUNE) Price Prediction For 2021: More ATH's Ahead?
THORChain – Forecast Summary
RUNE Forecast: H2 2021


Price:  5.50 – 10.45


Price drivers: Adoption, Possible Regulation

RUNE Forecast: 1 Year


Price:10.54 – 14


Price drivers: Adoption, Competitors, Regulations

RUNE Forecast: 3 Years




Price:

21 – 35


Price drivers: Regulation, Adoption
THORCHain is focused on helping users easily exchange cryptocurrencies and is based on being able to do so in a decentralized manner.
THORChain's native token RUNE is used as liquidity to help the platform facility trade between some of the major cryptocurrencies that have traditionally not been quick or easy to exchange.
The point of difference with THORChain is that it acts as a market-maker of sorts and users don't need to rely on liquidity on other more centralized platforms such as exchanges. Similarly, it is unique in that it can exchange cryptocurrencies with different blockchains, without the need for any kind of bridge.
The THORChain's native utility token RUNE has been seeing some very bullish price action in recent times, coming on the back of the official launch of the platform, which has in turn driven demand for the token.
At the same time, the ability to stake RUNE and provide liquidy also adds to a passive income stream which is something that has become more and more valuable over the past few years. And is something that many holders of cryptocurrency are looking for when choosing to invest.
As the platform continues to gain momentum and with the broader altcoin market also looking very bullish the short-term price forecast for RUNE is very strong.
I would expect to see a test of the all-time highs of around $20 in the coming weeks and that could very well be just the beginning for what is a token that solves a real-world problem.
THORChain Price Prediction for the Next 5 Years
The rise in the price of THORChain's RUNE token has been staggering to say the least over the past 12 months.
In fact, at the start of 2020, RUNE was trading at just $0.1 and since that time has seen a massive bull run, where price grew to the most recent all-time high of nearly $20 on Binance.
Given that we have seen such huge price appreciation I don't think it can sustain prices that are exponentially higher from this point onwards, but certainly, within the next 3-5 years, I don't think a $100 price is out of the question.
The main hurdle or downside risk is not so much anything that is directly related to THORChain, but rather how the entire sector adopts to regulation. However, given its decentralised nature and the goal of the platform, regulation might not be something that impacts RUN directly.
However, if regulation hit the likes of Bitcoin and Ethereum which are two of the most wildly traded and popular, then that would, in turn, reduce the need for THORChain and therefore impact potential RUNE yields
Recent Changes in the Thorchain Price
| | | |
| --- | --- | --- |
| Period | Change ($) | Change % |
| 1 Week | -0.48 | -7.02% |
| 1 Month |  0.67 | 9.80% |
| 3 Months |  -9.79 |  -143.34% |
| 6 Months | +2.37 | +34.69% |
| Jan 2020 | +6.75 | +98.91% |
THORChain – Decentralised Liquidity
THORChain is built around the concept of Decentralised Liquidity, which in simple terms, means the platform allows you to exchange various coins that might not have been easy or cheap to do on other platforms because they might operate on different blockchains.
The most common way traders and investors might swap various cryptocurrencies is through an exchange. However, these exchanges are not really decentralised. Uniswap and Pancakeswap are examples where you can only exchange tokens on the same blockchain.
THORCHAIN uses its native token to help facilitate an exchange between various cryptocurrencies that are not always interoperable, which effectively means easy to trade.
For example, it's possible to exchange Bitcoin for Ethereum and the RUNE token acts as the intermediary. All behind the scenes and at high speed.
Having an all-one-one solution is very appealing and makes things a lot easier for many users that might not be comfortable with exchanges.
As the platform rolls out, there will only be limited ability to swap between a few blockchains, including Bitcoin, Ethereum, Litecoin, Bitcoin Cash and Binance Coin. However, we should expect this to grow from now on.
THORChain – Passive Income Potential
In essence, THORChain is really like a market maker, who is facilitating the trades and using RUNE as the intermediary. For this to work users will have to deposit their coins into the liquidity pools to help that occur.
In return for staking or providing liquidy, its possible to earn a reward, like interest. That can happen alongside any price appreciation that you might see as well.
Risk – Regulation
The one common theme that we are seeing and hearing a lot about in the entire sector is the issue of pending regulation.
This is not an issue that is purely aimed at THORChain, rather this is what is likely going to be coming to the sector as a whole. While the price of RUNE has been trading near all-time highs, regulation in the sector would severely dent this.
It would also come to impact some of the major coins that THORChain hopes to feature heavily including both Bitcoin and Ethereum.
Technical Analysis
On the technical front, the RUNE/USD coin is trading with a slight bullish bias especially after closing a bullish engulfing candle on the weekly timeframe. On the chart below, we can see RUNE/USD has completed 23.6% Fibonacci retracement at 7.72 level and bullish crossover of this level has the potential to lead the coin towards 10.52 level.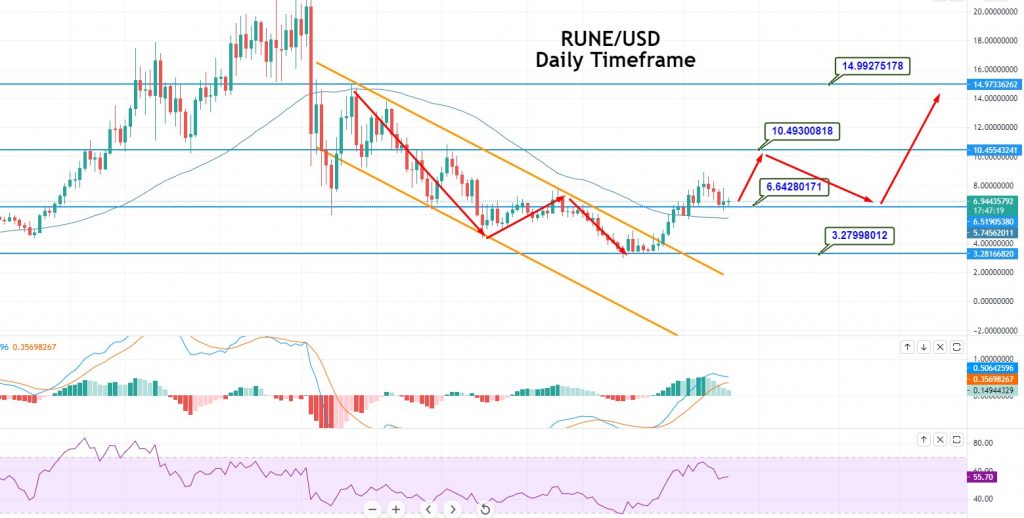 On the daily chart, the MACD and RSI indicators are suggesting a strong bullish trend in RUNE, therefore, the chances of a selling trend remain pretty weak. The 50 periods moving average is holding at a 5.7 level while the current market price is holding at 7.08. Since the CMP (current market price) closing above the MA, this suggests a strong bullish trend in the RUNE/USD coin. The RUNE/USD's resistance holds at 7.78 and 10.54 levels.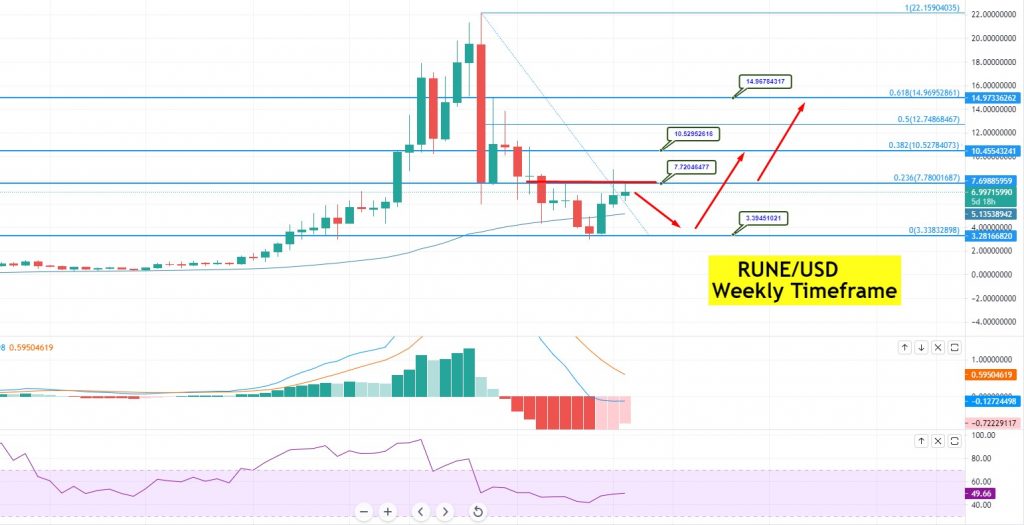 A further bullish breakout of 7.72 level can lead the RUNE/USD price towards the next resistance level of 10.52 and 12.74 levels that marks 38.2% and 50% Fibonacci retracement levels. On the lower side, the support level holds around 3.39 level. However, on the way to the downside, the 50 periods simple moving average will be providing support at 5.12 level. Bullish bias seems dominant on the weekly timeframe, therefore, the odds of Rune to target 10.50 and 14.96 levels seems strong in the future.
Updated:  Aug 09, 2021