Cardano Price Prediction for 2023: Will add retest the $1 mark
Cardano (ADA) – Forecast Summary
ADA Forecast: H1 2023
Price: $0.3 – $3
Price drivers: Technical indicators, Crypto market sentiment, Alonzo hard fork, Crypto crackdown
ADA Forecast: 1 Year
Price: $3 – $5
Price drivers: Release of Voltaire, ERC20 Token Converter, Crypto crackdown, Technical charts
ADA Forecast: 3 Years
Price: $10 – $12
Price drivers: Cardano evolving, Crypto market sentiment, International legislation
Although leading cryptocurrencies had some price volatility in 2021, many of the most popular crypto coins experienced considerable bullish momentum. Come 2022, the market turned red and expert price predictions doubled down on their cryptocurrency price forecasts. Cardano is currently the main topic of conversation, with its ADA coin emerging as one of the best-performing crypto assets, thanks to a market surge, as well as anticipated listings on other exchanges and big feature rollouts. However, after testing near $3 in 2021, the coin dropped below the $1 mark in 2022. Hopefully, the bulls will retest $1 by end of 2023.
Cardano Price Prediction 2023 – 2028 Introduction:
What is ADA Token?
ADA is a digital token or cryptocurrency that runs on the Cardano blockchain. However, ADA can be used to pay for premium network services. Users on the network can also transfer and trade their cash through several cryptocurrency exchanges, such as Binance, Digifinex, and Upbit, to mention a few. Cardano's crypto wallet, Daedalus, is secure to save these coins.
Every ADA user has a stake in the Cardano network as well. ADA in a wallet can be delegated to a stake pool to earn rewards, contribute to the network's success, or pledged to a stake pool to boost the pool's chances of obtaining rewards. On the Cardano platform, ADA will eventually be utilized for several apps and services. In this ADA price prediction, we are going to determine using our analysis, the direction of the Cardano price.
What is Cardano?
Cardano is a decentralized blockchain platform led by Charles Hoskinson, co-founder of Ethereum. The platform's development began in 2015 and was released in 2017. Its claimed purpose is to make the blockchain network more environmentally friendly and scalable by lowering the need for energy-intensive bitcoin miners.
Cardano is to ADA what Ethereum and Ripple are to ETH and XRP, respectively. In layman's terms, Cardano is the platform that runs the native cryptocurrency ADA. Cardano is a decentralized blockchain platform divided into two parts: the Cardano Settlement Layer (CSL) and the Cardano Computational Layer (CCL) (CCL).
Recent Cardano Technical Analysis
It looks like the bulls have been doing their best to keep Cardano's ADA ticker up above the moving averages since March 21st. However, they just haven't been able to make it to the neckline of the inverse head-and-shoulders pattern. Why? Because the bears are being a real pain in the neck and selling near $0.39.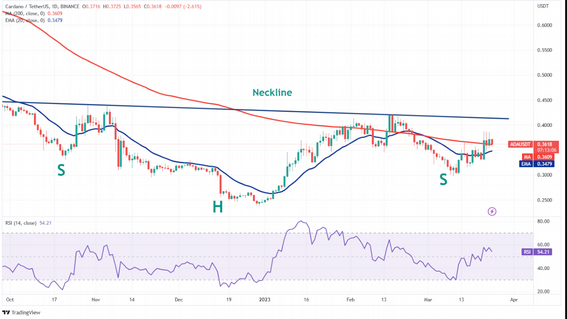 But hey, it's not all bad news for the bulls. The 20-day EMA is trying to turn up, and the RSI is just above the midpoint, which means there's a slight advantage for the bulls. If the price turns up from the 20-day EMA, there's a good chance of a rally to the neckline. And if the H&S pattern breaks above, then it could be the start of a new potential up-move!
Now, if the price slips below the 20-day EMA, that means the bears are trying to make a comeback, and we don't want that. If it breaks and closes below $0.30, we may be in for a wild ride as selling could accelerate and yank the price down to $0.24.
So let's keep our fingers crossed, folks, and hope that the bulls keep up the good work!
Cardano: Historical Data
Charles Hoskinson revealed the Alonzo hard fork in August 2021, prompting Cardano's price to skyrocket, increasing 116 percent in the next month. The Cardano 'Alonzo' hard fork went live on September 12, 2021, bringing smart contract features to the blockchain. In the first 24 hours after the launch, over 100 smart contracts were implemented.
Agricultural organizations use Cardano to track fresh fruit from farm to fork, while other solutions created on the platform enable tamper-proof storage of educational credentials and shops to combat counterfeit items.
Cardano made its debut in September 2017, with its native token, ADA, trading at roughly $0.02. The first significant price movement occurred at the end of November 2017, when ADA's market capitalization topped $1 billion for the first time – and after a series of rapid upsurges, the price had increased almost 4,000 percent to $1.21 on January 4, 2018. ADA crypto price and market capitalization hit $31 billion at the time.
Later, YFI began to rise again, breaking previous price records on its way to a New All-Time High of $43,873.82 by mid-September, before plummeting to $22,595.61 by the end of the month. As a result of the massive supply pressure.
A slump quickly followed this, and ADA was worth less than a quarter of its peak value a month later, dipping below $0.15 by March 2018. In April 2018, there was a renewed drive, but it lacked the momentum to breach $0.40, and by the end of the year, prices had fallen as low as $0.03.
The following year, 2019, didn't deliver much in price volatility. Between March and June, there were a few minor rises, but each time the price of ADA failed to break past hard resistance at $0.10, and by the end of the year, Cardano was back to $0.03.
Cardano made consistent gains toward $0.07 in January and February 2020 but suddenly lost them in March when the price of ADA plunged 45 percent in a single day, bottoming out at roughly $0.02. However, this signaled the beginning of a period of growth, and by August 2020, Cardano had risen to $0.14. Following a brief dip at the beginning of September, the gains continued, and ADA finished the year well, ending above $0.17.
In 2021, the price of ADA soared about 700 percent to a record high of $1.43, giving it a market valuation of more than $45 billion. Cardano had had a fantastic ride, rising from $0.02 when it began in 2017 to over $1.40 a few years later after generating gains of nearly 7,000 per cent. There were a few surges and crashes along the route, so it wasn't a smooth trip.
Recent Changes in the ADA Price
| | | |
| --- | --- | --- |
| Period | Change ($) | Change % |
| 3 Months | +0.146 | +47.1% |
| 6 Months | -0.144 | -32.0% |
| 1 Year | +0.387 | +208.1% |
| 2 Years | -3.613 | -48.5% |
| 3 Years | -3.613 | -48.5% |
&nbsp
Cardano Price Prediction: Factors affecting Cardano (ADA/USD)
Cardano trading history has been influenced by several events and Cardano news announcements including changes to its mainnet and broader economic trends. Its present value is determined by the market's supply and demand balance, which is constantly changing.
ADA was influenced by some of the broader market developments in 2020. In March, the stock market crashed dramatically when economies and borders worldwide shut down in reaction to the COVID-19 epidemic. The rest of the crypto economy and the global stock market felt the impact, with the most significant single-day drop since 1987.
The decline at the beginning of September was seen across the crypto market, as was the period of increase at the end of the year and into 2021 following Bitcoin's last bull run. The release of the Shelley mainnet in mid-2020, which included staking rewards and moved the network closer to decentralization, may have aided Cardano's growth. Furthermore, ADA's ascent to new highs could be fueled by growing excitement for the Goguen mainnet, Cardano's third stage of development, which will offer a slew of new capabilities, including the capacity to create decentralized apps, when it launches in 2021. (dApps).
Furthermore, the price of Cardano (ADA) can be influenced by a variety of variables, including project updates, sentiment, and market movements. For example, like Bitcoin, Cardano has a total fixed supply, which means it is not subject to inflation or depreciation like fiat currencies are.
Many holders may desire to move their ADA off exchanges and into stake pools since the outstanding ADA not yet in circulation will be issued as staking returns. However, as long as demand is sustained or raised, this would limit ADA supply on the market, increasing its price. Therefore, demand for ADA is fueled by its utility for facilitating transactions on the Cardano network and participating in its governance, in addition to staking benefits.
The price of Cardano is projected to rise in tandem with its acceptance and use cases since the system becomes more valuable as more developers build on it. However, because the Goguen update adds smart contract functionality to the blockchain, it may spur new development, resulting in a significant increase in ADA price.
Cardano (ADA/USD) Price Prediction for the Next 5 Years
Let's take a look at the Cardano price prediction from 2023 to 2028. All of your doubts will be dispelled at the conclusion of this Cardano forecast, and you will know if the Ada Price will rise or decline.
Cardano (ADA/USD) Price Prediction 2023 – 2028: Current ADA crypto price perfomance
Well, it looks like the bears and bulls are having a bit of a tug-of-war over Cardano's ADA. The bears are all like, "No way, Jose! We're defending the 200-day SMA at $0.36!" while the bulls are all like, "Bring it on, we're buying dips to the 20-day EMA at $0.34!"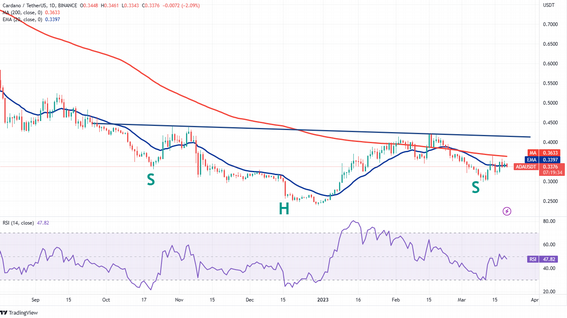 But let me tell you, this tight range can't last forever. If those pesky buyers manage to push the price above the 200-day SMA, the ADA/USDT pair could take a stab at a rally to the neckline of a developing head-and-shoulders pattern. But watch out, because those fierce bears are expected to defend the neckline with all their might! If they fail, though, it could signal a trend change.
On the other hand, if the price can't keep up and stays below the 20-day EMA, the pair could take a tumble down to immediate support at $0.31, and then to $0.30. So who's going to win this tug-of-war? Stay tuned!
Cardano (ADA/USD) Price Prediction 2023 – 2024
According to the projection price and technical analysis, the price of Cardano is expected to reach a minimum of $5.18 in 2023. With an average trading price of $5.36, the ADA price can reach a maximum of $6.03.
In 2024, the price of one Cardano is predicted to reach a minimum of $7.15. By 2024, the ADA price might reach a maximum of $9.04, with an average price of $7.42.
Cardano (ADA/USD) Price Prediction 2025
In 2025, the lowest potential price for Cardano is expected to be $10.41. According to our research, the ADA price might reach a maximum of $12.60, with an average anticipated price of $10.78.
Cardano (ADA/USD) Price Prediction 2026
Over the next five years, the price of Cardano would rise from $1.52 to $13.23. Cardano can begin 2026 at $10, then rise to $13.25 within the first 12 months. It is about a +90% gain from today.
Cardano (ADA/USD) Price Prediction 2027
In 2027, the price of Cardano is expected to reach a minimum of $5.85. Throughout 2027, the Cardano price might reach a maximum of $18 with an average price of $8 throughout the year.