Binance Coin (BNB) Price Prediction for 2021: Will the BNB/USD Continue to Rise in 2021? Key Factors Explained!
Posted Thu, February 4, 2021 by
Arslan Butt
• 5 min read
The price of Binance was absolutely surging in the middle of February, as it surged from around $ 50 to $ 370 that month, while by the middle of April this digital currency reached $640, now trading at $570, after retreating lower. It gave back half of the gains in the last week of February, but it has turned extremely bullish in April. Binance Coin BNB was the first to signal the cryptocurrency rally in September last year, when it jumped from around $ 18 to $ 33 and it is gaining the most right now, tripling in price since the middle of December. The January retreat was weak and short-lived, while the first two weeks of February have been extraordinary so far, with Binance nearly doubling in value, increasing from around $ 40 to just below $ 100 and then continuing above $ 500 on April 10, while the bullish momentum is only getting stronger as buyers pushed to $640. This comes in the middle of a product development drive which sees Binance launch several new cryptocurrency products.
Binance is a digital asset that was launched by the Binance exchange. Users can pay their Binance charges in BNB, and they receive discounts in return. These discounts are valid for four years, and they halve in value every year: 50% in the first year, 25% in the second, 12.5% in the third, and 6.25% during the fourth. The primary purpose of Binance Coin is the payment of fees, although it can also be spent in various online and physical stores worldwide. Apart from this, one can also invest BNB in Initial Coin Offerings (ICOs) that were founded as part of Binance's Launchpad program.
So far, the world's 10th-biggest cryptocurrency, Binance Coin (BNB), has a market capitalization of $ of around $89 billion. Binance Coin (BNB) was initially formed on the Ethereum network in July 2017, making it a 3rd-generation cryptocurrency and ERC-20 token. 
Binance Coin was created by the popular Chinese cryptocurrency exchange, Binance. A portmanteau of 'binary' and 'finance,' Binance trades around $ 7,184,160,910 in a typical 24-hour period, and it is the world's biggest crypto exchange. Its success could be attributed to its in-house matching engine that matches users looking to buy and sell the same asset. In this way, Binance is likely to go from strength to strength, but what about Binance Coin?
Recent Changes in the Binance BNB/USD Price 
| | | |
| --- | --- | --- |
| Period | Change ($) | Change % |
| 30 Days | +$295 | +114% |
| 6 Months | +$541 | +1691.55% |
| 1 Year | +$547 | +1700.23% |
Binance (BNB/USD) – Forecast Summary
Binance Forecast: H1 2021


Price: $850 – $1,000
Price drivers: Double Top Breakout, Bullish MACD, 10 & 20 EMA Support

Binance Forecast: December 2021


Price: $1,500 – $2,000
Price drivers: Bearish correction, Fibonacci Retracement, Profit-taking.

Binance Forecast: 3 Year


Price: $5,000 – $10,000
Price drivers: 50 EMA support, ABCD Pattern completion

BNB/USD – Factors that Impact the Price of Binance Coin:
The following factors that impact the price of Binance Coin will help you to understand the market and predict periods of growth or decline, based on current events. The predictions are typically based on the principles of technical analysis. Despite this, we all need to understand different factors that can impact the price of a particular asset, which in turn enables us to make sensible investment decisions, based on changing events.
Many cryptocurrencies are currently not subject to any control by governments and central banks. However, if any changes were to occur in the coming years, this could impact the value of Binance Coin. Let's take a look at the three most vital factors that can affect the price of Binance Coin:
Supply and Demand:
The relationship between supply and demand could be considered a 'catch-all' factor that will always influence the price of Binance Coin. It is also worth noting that the relationship between supply and demand itself is dependent on many different factors. In simple words, the price of an asset will decrease if the supply exceeds the demand, and in turn, it will increase if the demand is greater than the supply. 
Supply of Binance Coin:
Binance is halving its coins and this event occurs roughly once a year. It cuts the reward for mining new blocks in half. Like Bitcoin, there is a maximum total supply of Binance Coin. When it was first launched, the total supply was about 200 million; however, the Binance exchange intentionally destroys Binance Coin tokens over time.
 This is normally done to control the supply of the cryptocurrency, which helps the Binance coin prices to stay firm. In simple words, Binance can manage the relationship between supply and demand by reducing the total supply, which has a positive impact on the price of Binance Coin. 
The Success of ICOs:
Another major factor that can influence the Binance Coin prices is the success of the ICOs that participate in Binance's Launchpad scheme. If Binance supports launching a series of new popular cryptocurrencies, it means that Binance Coin users have more options for trading their tokens. This, in turn, underpins the demand for Binance Coin, as it creates more reason to trade on the Binance platform and therefore to own BNB. 
US Dollar & Binance Coin:
The prevalent surge in Binance Coin could also be attributed to the weaker US dollar, triggered by the progress towards agreeing on the next round of US fiscal stimulus, which has undermined the demand for safe-haven assets like the US dollar and contributed to the gains in Binance Coin.
Why Buy Binance Coin? The Qualities of BNB:
Let's talk about some great reasons to buy Binance (BNB) Coin.
Affordability – Compared to other coins, like Bitcoin, BNB is favorable in terms of buying, as it is pretty affordable. You can easily trade BNB coins on the Binance platform.
Supply and Demand – The supply and demand determine the growth of a currency's value in a digital exchange. Bitcoin grew in value, thanks to its 21 million supply cap. In the meantime, 99 million BNB coins are already in the market, and as its fame spreads, the supply will diminish, which in turn exerts a positive influence on the prices.
 Community trust – Binance Coin is seen as one of the most trusted coins in the market, thanks to the ease of operation and a high withdrawal limit of $ 30,000. Investors are gaining more confidence in BNB, due to the low level of security issues. 
 Growth – As the Binance platform grows with time, the BNB currency grows at the same rate. The infrastructure is as strong as Bitcoin's protocol.
Technical Analysis – Can we Expect a Continuation of the Bullish Trend – BNB/USD? 
On the technical side of the market, Binance is trading with a solid bullish bias, having soared to the $ 92.55 level. On the weekly time-frame, Binance has violated the double top resistance level of $ 33.66, and it is also crossing over the next resistance area of $ 47. Closing of bullish engulfing candles on the weekly time-frame suggests strong chances of further buying in Binance. 
Taking a look at the long-term forecast for Binance, the crypto pair is suggesting a strong bullish bias. On the higher side, Binance may find its next resistance around $ 103 and 125.100, which is extended by monthly pivot point resistance levels.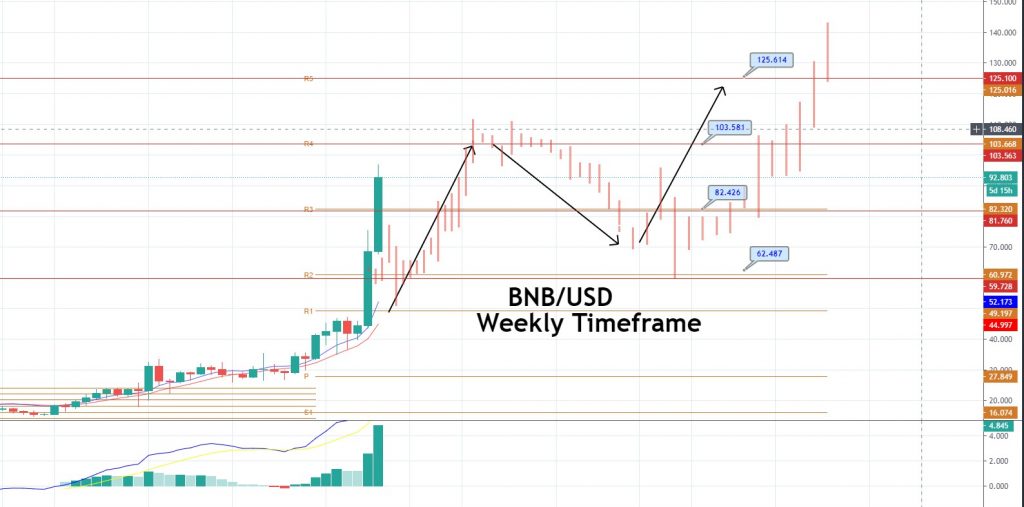 BNB/USD Bullish Engulfing, RSI, and MACD – All Suggest Buying
On the daily chart, the 10 & 20 periods Exponential Moving Averages also support a strong bullish bias, but at the same time, this also suggests solid chances of a bearish correction, as the value remains at a level that is far away from the current market price of BNB $ 94.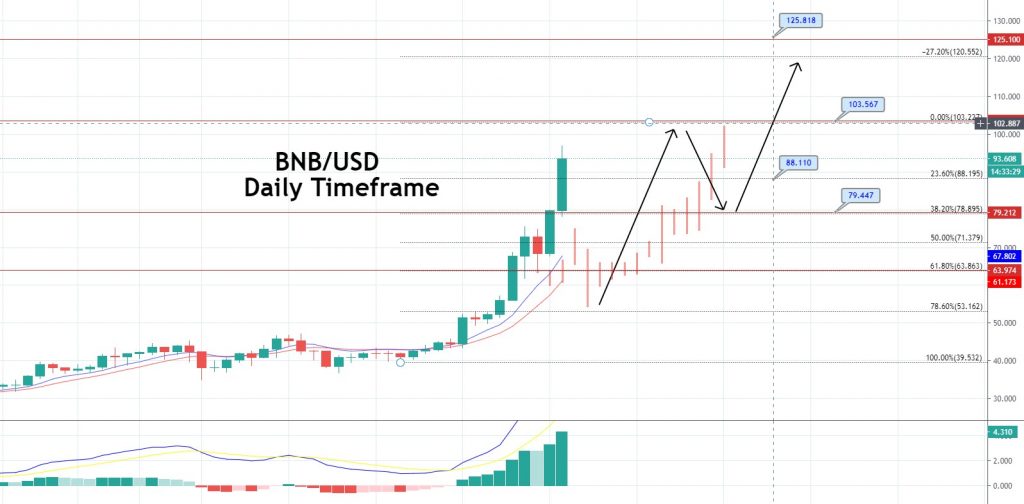 On the lower side, the BNB/USD may find support at the $ 88.10 and 79.44 levels, which is extended by 23.60% and 38.20% Fibonacci retracement levels. The MACD exhibits a bullish crossover, and it has started closing histograms over 0, supporting a bullish bias among traders. We can expect a slight correction in BNB until $ 79.44 soon as the pair is extremely overbought and bulls seem to have exhausted. This update examined many breathtaking projections and ideas by some leading specialists within the crypto space. Each of them has a great argument, making it all the more interesting to observe what is about to unravel at the beginning of 2021. Good luck!