ChainLink (LINK) Price Prediction for 2021: Surging Higher as Demand for Oracles Increases
ChainLink (LINK/USD) – Forecast Summary
ChainLink Forecast: H2 2021


Price: $15 – $30
Price drivers: Crypto market sentiment Covid-19, Safe haven status, Stimulus programmes

ChainLink Forecast: 1 Year


Price: $30 – $65
Price drivers: Economic recovery, Post COVID-19, Safe haven status

ChainLink Forecast: 3 Years


Price: $65– $35
Price drivers: Tighter monetary policies, Safe haven status, Economic Recovery
Chainlink started life two years ago, at the beginning of 2019; and turned bullish as soon as it was introduced to the public. By the end of last year, the price had increased above $ 4.50. Most of those gains were lost after the bearish retrace that followed, but buyers have kept trying the upside, making higher highs every time, and it seems like they have won the battle; as LINK/USD moved above $ 35. Moving averages have been doing a great job in providing support and pushing the price higher, but the main reason for the surge is the fact that traders have turned to cryptocurrencies, which have been acting as safe havens since the middle of 2020. The retreat in the last week of February, was still smaller than in most cryptos and buyers are resuming control again already. 
The economic and political uncertainty that the coronavirus has brought across the globe, has made it dangerous to buy anything in financial markets, apart from cryptocurrencies, which have been absolutely surging, and the Link is no exception. ChainLink is also benefiting from the fact that it has a monopoly on the Oracle network, like Ethereum, and the network has been growing exponentially in the last two years, as the demand for digital payments and transactions is also increasing exponentially. With fundamentals totally bullish and the technical picture showing no signs of retreat after the recent surge, ChainLink is bound to climb further up, to $ 50 initially, and then above $ 100.    
Recent Changes in the ChainLink Price
| | | |
| --- | --- | --- |
| Period | Change ($) | Change % |
| 1 Month | +5.58 | +23.16% |
| 3 Months | -17.91 | -74.35% |
| 6 Months | -0.99 | -4.11% |
| 1 Year | +14.88 | +61.77% |
| 2 Years | +21.67 | +89.95% |
Factors Affecting ChainLink
ChainLink is a decentralized network of nodes, and the only one that has the monopoly in that field, founded by Sergey Nazarov, which has helped it to attract immense interest in recent months. More than 415 crypto projects use ChainLink technology in one way or another. It increased by 100, from 315, in November last year, and the number will increase further. The market Cap is growing rapidly and is currently standing at $ 13.807 billion, as of the middle of February 2021.
The network translates data and information from off-blockchain sources/orders to on-blockchain smart contracts through oracles, and the use of the network is increasing fast. This relatively new altcoin, which is just two years old, has turned extremely bullish since the beginning of 2021, having increased from $ 1 to nearly $ 35. The trend remains bullish for a number of factors, such as the positive sentiment for cryptocurrencies as the new safe haven market, and for ChainLink, as the Oracle network provider. The economic instability and the uncertainty are keeping the demand higher for cryptos, which is increasing further for ChainLink, so everything looks bullish.
ChainLink Price Prediction for the Next 5 Years
The ChainLink is a decentralized oracle network built on Ethereum, which went live at a good time in May 2019, after the big decline in the cryptocurrency market of 2018 had ended. With the expansion of DeFi smart contracts, the demand for the LINK/USD has increased too, and it is expected to continue to do so as the oracle capacities and functions increase. ChainLink is being adopted by various companies, so the activity in the ChainLink network has increased and the ChainLink team plans to introduce some new and interesting developments, as well as some new partnerships with other   
ChainLink Activity Increasing
ChainLink is basically like a bridge between smart contracts that come out of the oracles and off-chain applications, in order to grant access to off-chain resources, such as web APIs, data feeds etc. With increasing numbers of non-compatible blockchains, APIs and datasets, the need for better communication between the off-chain and on-chain finance worlds is increasing too. LINK is at the forefront of solving this issue by offering the decentralized oracle network of node operators. This has increased the activity in ChainLink, as Glassnode's data shows a steady increase in the number of new addresses being formed, and of passive addresses turning active. This shows that new investors are entering the crypto ChainLink market, as the price keeps going up, which is fueling the bullish momentum further.
Another interesting metric highlighted by Santiment also provides an interesting data indicator. It shows increasing use of the latest ATH, which was established on the back of increased token circulation. The number of dormant tokens moving around has also increased, as has the level of unique address activity, which has been sustainable.
Github dev activity and Google Trends also show a bullish trend in activity for the LINK token over the past six months, and it continues to pick up pace, which partly explains the recent bullish rally in the LINK/USD, as the activity in LINK-run oracles is increasing immensely in the DeFi financial system. Yes, it has turned into a system now, and is likely to become the main one relatively soon. Another thing that has been keeping ChainLink's bullish momentum going, according to Glassnode's network data, is the LINK percentage supply in smart contracts, which has hit an ATH of 55.950%. With the aforementioned metrics, we have a bullish bias in LINK.  
Upcoming for ChainLink
The decentralized Oracle network developer, ChainLink, which differs from both the distributed networks and the centralized ones, has announced that it is teaming up with an important node operator based in the EU.  Vulcan Link received a grant in order to integrate ChainLink on the SKALE Network. SKALE is a "fully" decentralized Ethereum network- compatible Layer-2 proof-of-stake (PoS). According to them, SKALE offers all the benefits of decentralization and transaction speed, without  compromising the security on blockchain platforms.
ChainLink published a blog post on this:
"We're excited to announce that Vulcan Link, an EU-based ChainLink node operator and Web3 development and consulting company, has been selected as a recipient of a community grant to integrate ChainLink into the SKALE Network. As a blockchain-agnostic oracle network, ChainLink will support the SKALE Network by allowing their developers to build more advanced smart contract applications, using real-world data and API services made available through ChainLink Oracles."
ChainLink flips the paradigm of Google and other such development teams, which built the platforms and applications on top of the protocols that power the internet, siphoning off all of the value. ChainLink captures all of the value at the protocol layer, within the token itself, since it is built on a blockchain protocol. Besides that, ChainLink has no real competition, since the work in building within this space started even before Ethereum, which means that ChainLink has the advantage of being the first mover, similar to Bitcoin and Ethereum itself. The oracle space is dominated by ChainLink, which has a complete virtual monopoly.
ChainLink as a Means of Payment and Investment
The main reason why cryptocurrencies were introduced was to use them as a means of payment, and they have also earned the status of investing assets, since they are working as safe havens as well now. Major names are adopting Link tokens to enable payments, such as the Deutsche Telekom AG, which is the largest telecommunications company in Europe, in terms of revenue. It makes them the third largest data providers to Chainlink, which offers the only oracle service upon which the DeFi financial market relies. Yes, Deutsche Telekom has quietly helped considerably with the infrastructure in the PoS blockchains, and it has actually started custodying, staking and earning crypto rewards, besides providing DeFi data support.
As we know, ChainLink's oracles are a system of data feeds. They transport the data into the blockchain world of smart contracts, which takes out the reliance on any single centralized source. T-Systems announced that it was going to run a ChainLink node in August 2020, at a time when DeFi transactions exploded, as the increased uncertainty turned investors towards cryptocurrencies. We have witnessed an incredible ride during this time, which still continues. So, big names are adopting the ChainLink node system, and Oracle's co-founder, Sergey Nazarov, says that "it's only a matter of time before other big companies and enterprise firms follow Deutsche Telekom's example." He added that "ChainLink enables top infrastructure teams like T-Systems to monetize their globally distributed infrastructure and security expertise across the many chains already being served by Chainlink oracles."
 Besides being adopted as a means of transaction, ChainLink is also being considered as an investment asset. One of the biggest crypto asset managers in the world, Grayscale, which has around $ 26 billion in asset management on a varied set of products, has incorporated six more trusts, including those tied to ChainLink, which were formed by Delaware Trust Company in recent months. Michael Sonnenshein, CEO of Grayscale Investments, says that "Grayscale is always looking for opportunities to offer products that meet investor demands. Occasionally, we will make reservation filings, though a filing does not mean we will bring a product to market. Grayscale announces – and will continue to do so – when new products are made available to investors." But, we know some of that cash will flow into Link, which will cause it to appreciate further.
Technical Analysis – Oversold LINK/USD Set for Bullish Retracement
On the monthly chart, the LINK/USD coin is trading with a bullish bias at the $23.58 level. The coin entered into the oversold zone, as we can see, the RSI fell to near 20. For the moment, the bulls seem to take control and have started buying the cheaper LINK. The LINK/USD coin has closed a hammer candle followed by a solid bearish trend on the monthly chart. This demonstrates sellers are exhausted and they may start doing profit-taking. 
With that being said, buyers can enter the market above the $13 support level. On the higher side, an immediate resistance stays at 29.01 level that's extended by a 38.2% Fibonacci retracement level. Bullish crossover of 38.2% Fibonacci level can extend further buying trend until 37.75 level. This particular resistance level is extended by a 61.8% Fibonacci retracement level. Bullish bias remains strong on the monthly timeframe. Let's now take a look at weekly chart.

LINK/USD – Monthly Timeframe – Hammer Candle to Trigger Buying
On a weekly timeframe, the LINK/USD coin has closed a hammer candle above the $13.59 support level. This candle has triggered the bullish correction in the LINK/USD coin, and so far, the ChainLink has completed 23.6% Fibonacci retracement at a $22.77 level. 
ChainLink (LINK) price prediction remains strongly bullish as the coin has recently crossed over the 50 period moving average. As we can see below in the weekly chart, the LINK/USD has closed a bullish engulfing candle over 50 periods SMA. This simple moving average is now extending support at the $21.45 level.
Continuation of a bullish trend can drive additional buying trend until 28.55 level that marks 38.2% Fibonacci retracement level. The further bullish trend can lead the LINK/USD price towards 38.50 level that's 61.8% Fibonacci retracement level. Bullish trend dominates in ChainLink now.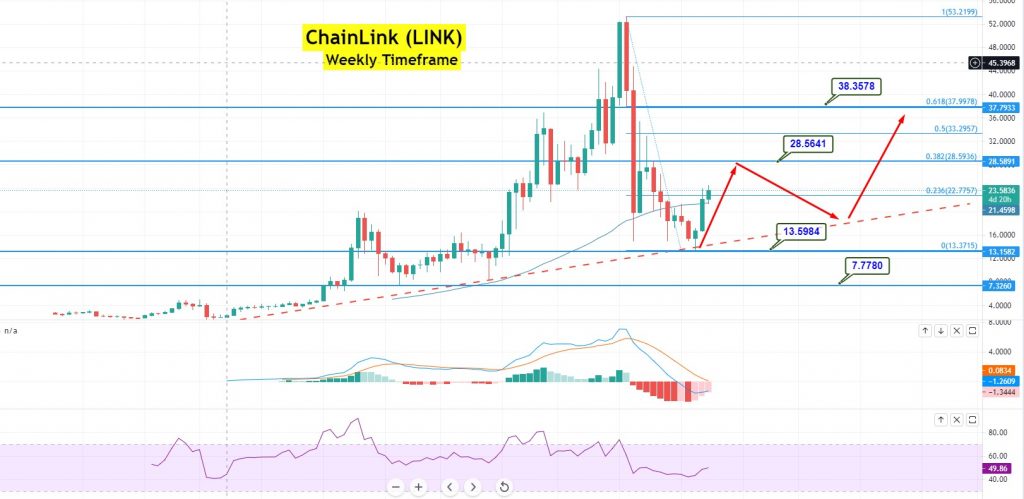 LINK/USD – Weekly Timeframe – Fibonacci Retracement
Updated: Aug 13, 2021