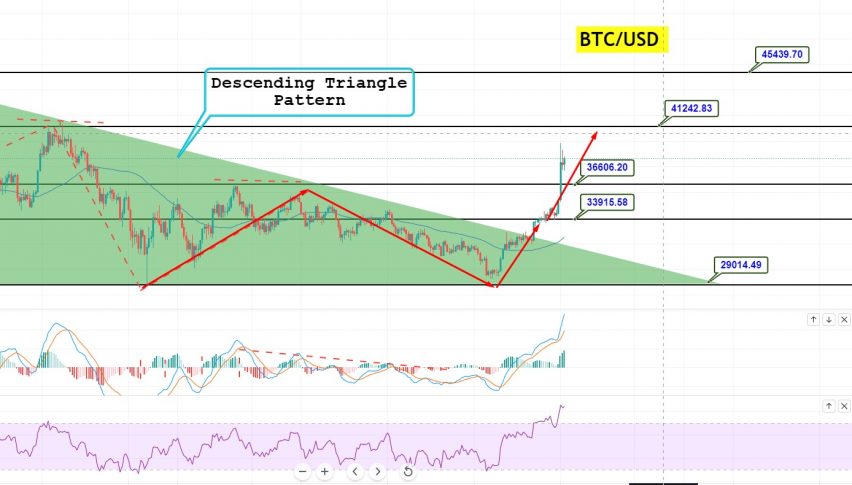 Bitcoin Skyrockets Near $40K – Tesla & Twitter CEOs Underpin BTC
Posted Monday, July 26, 2021 by
Arslan Butt
• 2 min read
On Monday, the market opened with a strong bullish bias to trade at the $38,450 level. Bitcoin soared approximately 12.5%, placing a high of $39,850. This is the highest level it has reached since mid-June. Meanwhile, Ethereum hit a three-week high at $2,344. 
The short-sellers seem to be feeling the heat from the spurs of Bitcoin's best week in nearly three months. Cryptocurrencies jumped to the top of fresh ranges on Monday, as short-sellers bailed out on the back of an intense week.
Elon Musk and Jack Dorsey Support Bitcoin, Pushing the Price Close to $40K
The CEOs of Tesla and Twitter, Elon Musk and Jack Dorsey respectively, recently spoke at "The B-Word" Bitcoin conference. During the event, billionaire Elon Musk stated that Tesla might begin accepting Bitcoin payments for their vehicles once again. 
The main reason for this change of heart is because a greater share of Bitcoin mining operations has shifted to using renewable energy sources. Tesla stopped taking Bitcoin as a payment mechanism for vehicle purchases in May, following environmental concerns that emerged in the market, due to the amount of energy that was being used to mine Bitcoins. 
The mining process involves an energy-consuming process of generating new coins by resolving complex math puzzles. Computational power is needed to perform the process, and this requires vast amounts of energy.
Meanwhile, other positive headlines for Bitcoin have also added strength to the BTC/USD prices. Amazon has announced that it is looking to add a digital currency and blockchain specialist to its payments side.
This compound of circumstances, including the latest buy-the-dip behavior and fresh, positive gossip from the Twitter and Tesla CEOs, drove the bullish bias in Bitcoin, ultimately turning the whole market sentiment bullish, causing the entire cryptocurrency market cap to increase during the day.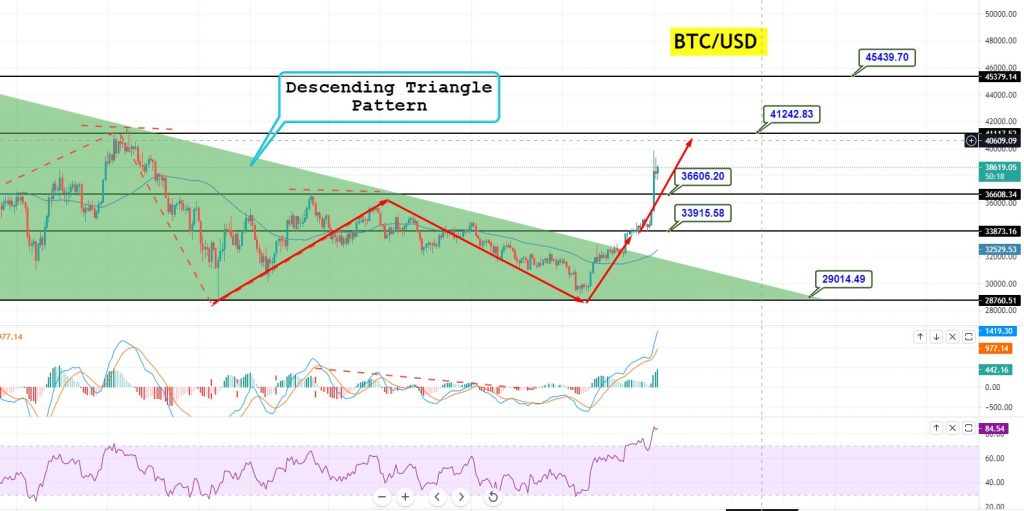 Bitcoin – BTC/USD – Technical Outlook – Key Resistance at $40,000
On the technical front, the BTC/USD has disrupted the resistance level of $36,600, and now this level is extending support. On the higher side, the BTC/USD pair could continue trading bullishly until the next resistance level of $40,000. However, the market is in the overbought zone now, and it's becoming hard for Bitcoin to break above the $40K level. 
The leading indicators, the MACD and the RSI, suggest odds of a bearish correction in Bitcoin; however, if Bitcoin manages to break over the 40K level, it may extend the bullish trend until the $41,120 and $45,350 resistance levels. A bullish bias dominates on Monday. Good luck!