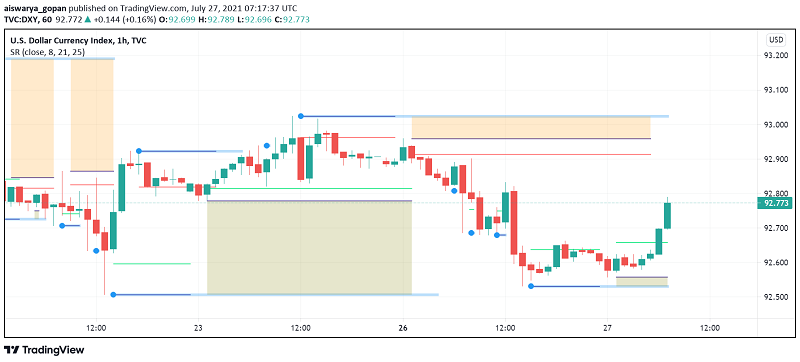 Traders Cautious About US Dollar Before FOMC Meeting
Early on Tuesday, the US dollar is holding on to its recent gains with traders hesitant to make fresh moves ahead of the Fed's latest meeting coming up this week. At the time of writing, the US dollar index DXY is trading around 92.77.
After rising for the past several weeks, traders have turned more cautious ahead of the upcoming FOMC as they wait for clues on the Fed's plans of beginning the process of tapering monetary stimulus. The hawkish tones policymakers adopted at the last meeting could come under pressure over rising uncertainty from the latest resurgence of COVID-19 cases across the US and several other parts of the world.
The key agenda that will be closely watched at the latest policy meeting concerns asset purchases and investors will keenly monitor any plans the central bank may share about when they could start tapering the program. In addition, comments about inflation will also be closely watched, especially how well the Fed can tolerate the recent uptick in prices and how long its effects could be felt on the economy as it recovers from the coronavirus crisis.
Markets expect Fed Chair Jerome Powell to sound more dovish than other policymakers, which could raise the possibility of ultra-low interest rates for longer. Powell is likely to focus on full recovery of labor market and inflation before considering starting the tapering of stimulus and reversing his dovish stance, which could exert downward pressure on the US dollar.
The greenback also came under slight pressure in the previous session after the benchmark 10-year US Treasury yields slid lower on account of rising inflation concerns. This caused the DXY to lose around 0.3% of its value in overnight trading during the previous session.