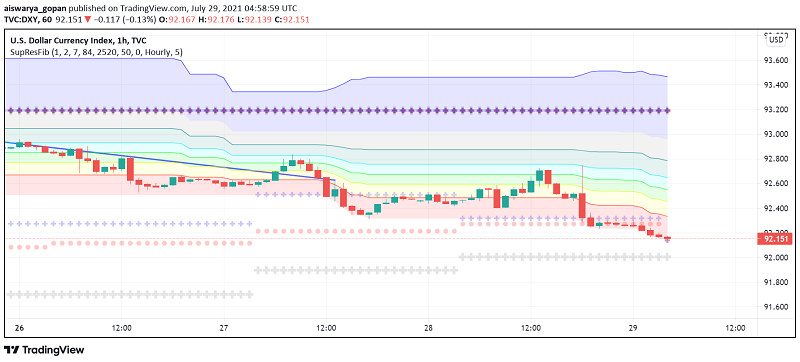 US Dollar Under Pressure After Powell Reiterates Dovish Stance
Early on Thursday, the US dollar is trading under pressure after Fed chairman Jerome Powell maintained his dovish stance, indicating that he has no plans to consider hiking interest rates anytime soon. At the time of writing, the US dollar index DXY is trading around 92.15.
At the end of the latest policy meeting, the US central bank offered more confidence in the economic recovery currently underway through the nation. However, Powell played down any possibility of a hawkish shift in the near future, maintaining that the labor market had more catching up to do before he could even consider a rate hike.
After trading bullish over the past few weeks, the rally in the US dollar appears to have come to a pause after the FOMC statement, driving renewed strength in other leading currencies. The biggest gainer has been the Pound Sterling, with GBP/USD making the most of the increased investor confidence after the UK economy's recent reopening.
The Cable is back above the key $1.39 level despite the rising number of COVID-19 infections across the UK. Investors continue to cheer the government's decision to reopen the economy even though the government continues to adopt a cautious approach.
Meanwhile, the greenback's safe haven appeal has also come under pressure after a recent report in Bloomberg about how China's securities regulator held a discussion with leading investment banks to offset the recent sell-off seen in the nation's stock markets. China's key stock indices turned extremely bearish over concerns that the government was going after the private education sector, leading companies to worry that such a move could target other industries as well.
However, the improvement in the risk sentiment has failed to make much of an impact on leading commodity currencies AUD and NZD, with the AUD trading weak owing to an extension of Sydney's lockdown. The safe haven Japanese yen continues to enjoy support over concerns about the economic impact of the delta variant of the coronavirus.