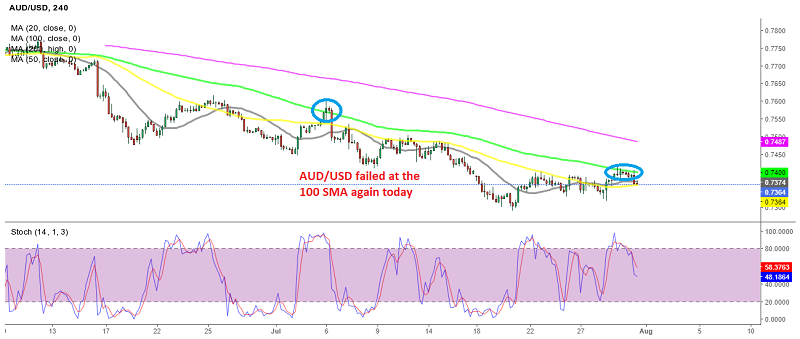 Sticking to AUD/USD Shorts, as it Fails to Make Gains on USD Weakness
Recently we have been opening quite a few sell signals/trades in AUD/USD, as you might have noticed on our forex signals page, where we also provide trade ideas/signals on cryptocurrencies, indices and commodities. The situation for the Aussie is such that we will keep opening sell signals in this forex pair on retraces higher.
The USD has turned bearish in the last two days, since the FED cooled off the hawkish rhetoric of the past few weeks. They confirmed the better economic situation in the US, which is an improvement compared to the previous meeting, as you can see from Powell's Q&A comments below, but they are sticking to temporary inflation, despite its surge to 5.1% and 5.5% in the last two months.
That turned the USD bearish, but the AUD is not taking advantage of the weaker US dollar, since restrictions, lockdowns and protests continue in the country. The AUD/USD wasn't able to push above the 100 SMA (green) on the chart, while other currencies surged higher against the USD. So we were pretty confident in this trade, which closed in profit. We will be selling this pair again if we see attempts at the upside.
Comments from Powell in the Q&A:
Still 'some ground to cover' before substantial further progress is achieved
It is clear inflation will be running at 2% for the months ahead
Repeats 'some ground to cover'
The new messaging is 'some ground to cover' rather than 'still a ways to go' on substantial further progress. The market is taking this as dovish, but I'm not so sure. It sounds like a fall taper announcement is possible. At the same time, if you were worried about a taper announcement today or at Jackson Hole, you can strike off that risk
We're clearly 'a ways away' from raising interest rates; it's not on our radar now
Says he has 'some confidence' that medium-term inflation will fall back
Bond moves might be related to Delta. Also cites technical factors and a fall in expected inflation compensation
There was another interesting twist on inflation questions, that he deferred to the FOMC twice. To me, it sounds like he stridently believes inflation is temporary but that's not a view that's totally shared by the committee.
We're clearly on the path to a very strong labor market
It's unusual to have such a high rate of vacancies to workers
There may be a speed limit with people finding new jobs, it takes time; it's about job selection
He suspects impacts of Delta wave will be less, but we will have to wait and see
Delta could slow the economy down for a period of months or not
There's a range of views on what timing will be appropriate
Today was the first deep dive on the timing
I'm not meaning to suggest anything on the timing of taper; there's a range of views
I'm not in any position to provide any guidance on the timing of the taper
We're talking about tapering right now, we'll take it meeting by meeting
There is little support for tapering MBS before Treasuries
Inflation has been driven by a supply-side shock
Quotable on tapering:
"Today, I've given you what I can give you because this was the first really, I would say, deep dive on the issues of time and pace and composition, and it was a good meeting. No decisions were made."