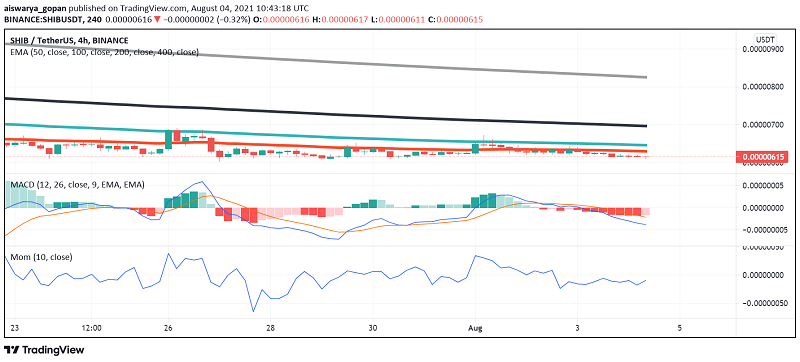 Why is Shiba Inu (SHIB) Weak Despite Addition to Coinbase Custody?
Shiba Inu is extending its bearish moves into Wednesday, trading weak ever since it dropped under the $0.0000065 level a few days ago and technical indicators point to more bad news for its holders in the near term. At the time of writing, SHIB/USDT is trading at around $0.0000061.
After soaring in popularity earlier this year, riding the bullish wave that the crypto market was on, things turned extremely sour for the memecoin in recent weeks. Despite being promoted aggressively by its loyal community and receiving some celebrity endorsements, including that of Elon Musk, the SHIB token seems poised for a bearish rally in the coming sessions.
First, Shiba Inu suffered on account of a downbeat mood among investors towards the wider crypto sector. However, we have been seeing the SHIB failing to post much of a recovery whenever the mood reverses, even if momentarily, a strong indicator that investors seem to be losing interest in the popular memecoin.
One of the biggest contributors to the bearish moves seen in Shiba Inu lately could have something to do with TikTok's decision to ban crypto endorsements on its platform. Before the ban, SHIB's loyal followers actively used social media to promote the token, and the video-based TikTok app was one of the most preferred channels for driving up interest in it.
In addition, joke cryptocurrencies like the Shiba Token are also facing downward pressure over mounting worries about the Infrastructure Bill in the US. The proposed tax reporting regime for cryptocurrencies could drive away investors and the smaller digital currencies are the one that have the most to lose in such a scenario.
While the Infrastructure Bill has some way to go before getting confirmed, in the near-term, Shiba Inu could receive some support from leading crypto exchange Coinbase's recent decision to add support for SHIB on Coinbase Custody. This platform by the US-based crypto exchange lets users store crypto assets via offline wallets and is insured and regulated by New York's regulator NYDFS. This development potentially takes Shiba Inu one step closer to being listed on Coinbase as an asset to trade.
Key Levels to Watch
On the H4 price chart of SHIB/USDT, moving averages and the MACD indicator are suggesting a strong bearish bias among investors at the moment. However, the momentum indicator points to some buying interest as well.
The SHIB price has some way to go before it can reach the pivot point which sits at $0.0000064 but is holding just above the immediate support level of $0.0000059. Further weakness can see a breakdown of this support which could take Shiba Inu lower towards $0.0000055. On the other hand, a turnaround in sentiment can take it past the pivot point to test resistance at $0.0000067.