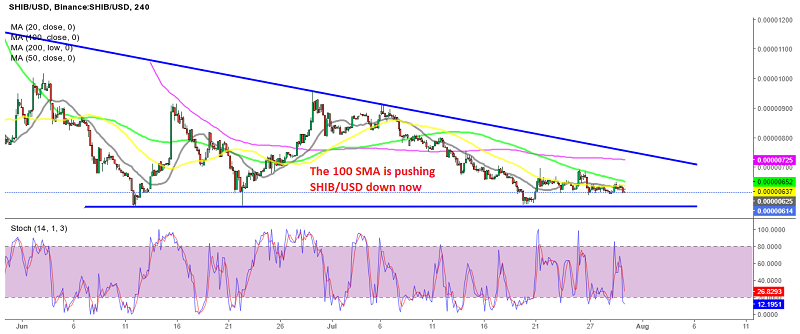 Shiba Inu Price Forecast – MAs Continue to Keep SHIB/USD Bearish, While Most of the Crypto Market Has Turned Bullish
The cryptocurrency market has turned bullish during the last 10 days, after  making a sudden reversal last Tuesday. Most cryptos have made considerable gains, ranging between 30% and 50%, although, there are some cryptocurrencies that haven't benefited from this bullish momentum in the crypto market.
One of these digital currencies is the Shiba Inu coin. This cryptocurrency turned bearish in May and has been on a downtrend since then. We have seen retraces higher during this time, but they have all ended at some point, and the highs keep getting lower.
In the first week of July, the SHIB/USD pushed above the moving averages on the H4 chart above, but it couldn't hold onto its gains, and the smaller MAs, such as the 20 SMA (gray) and the 50 SMA (yellow), kept pushing the price down. We saw a small pop above the 50 SMA during the bullish reversal in the crypto market, but that ended short at the 100 SMA (green) for Shiba Inu, and now the price has reversed back down.
Shiba Inu Analysis – SHIB/USD Daily Chart
On the daily chart, the situation doesn't look good either. The price has formed a bottom at $0.0000057, but the highs keep getting lower here as well, indicating selling pressure. The failure to make gains during this bullish period in the crypto market also shows selling pressure.
The 20 and 50 SMAs continue to push Shiba Inu down on the daily chart
The 50 SMA, and recently the 20 SMA too, have been acting as resistance at the top, pushing the price lower, as we highlighted in our 2021 Shiba Inu price prediction, so chances are that the support will break at some point. We are staying out of this cryptocurrency anyway, but it would be wiser to sell the bounces at moving averages, rather than to buy it.