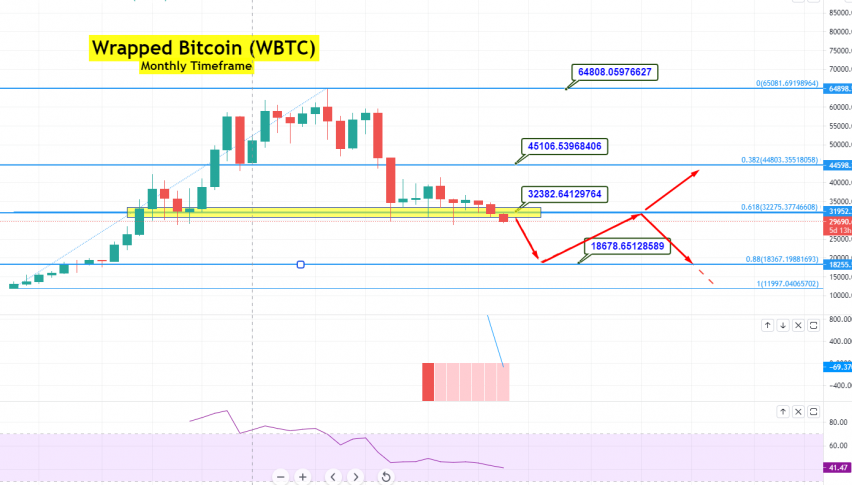 Wrapped Bitcoin Sees Slight Boost, Rises 1.31%
Wrapped Bitcoin has pulled ahead of conventional Bitcoin ever so slightly, achieving $46,382 so far compared to Bitcoin's $46,374. Wrapped Bitcoin is up 1.31% and continuing to rise.
It's not experiencing the kind of first-of-the-week increases that some of the other cryptocurrencies are, and it's had a sporadic past week. Wrapped  Bitcoin has managed to stay around the $46,500 mark for most of last week, falling below $44,500 briefly and hitting a high of $48,102 on Saturday.
That's a similar story to some of the major cryptos like Ethereum, but a number of cryptos have continued to rise almost all week, including Theta and Dogecoin. The performance of Bitcoin, and therefore Wrapped Bitcoin, over the past week has been difficult to predict, making it a nightmare for investors. That's the kind of volatility that's expected from the top performing crypto, however.
Wrapped Bitcoin Tied to Regular Bitcoin
Wrapped Bitcoin (WBTC) is intrinsically linked to Bitcoin (BTC), with each Wrapped Bitcoin being backed by a single Bitcoin. What this does is tokenize bitcoins and give them some extra liquidity and utility in financial markets. Wrapped Bitcoin is able to function on DeFi markets, which are powered by peer-to-peer technology and which don't really accommodate conventional Bitcoin.
Currently, about 1% of all Bitcoin is tied up in Wrapped Bitcoin assets. The two cryptos usually stay very close in price but will differ slightly in value. Traders can switch between their currently held bitcoins and Wrapped Bitcoin tokens on a DeFi Ethereum network, which gives them more trading options and more ways to use their currency.
For this to work, Bitcoin holders transferring their BTC to WBTC need to pay interest to the DeFi marketplace. The interest rates will change periodically and are determined by the market.
Even though Wrapped Bitcoin has been sporadic this week, it is up overall for the last month, and continues to rise since the major market dip on June 20th.