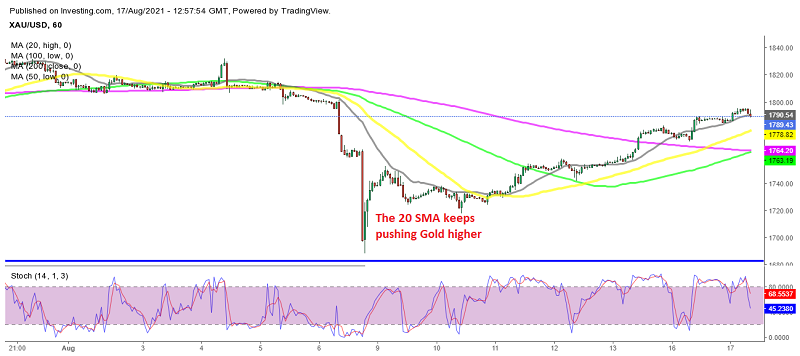 Gold Continues the Bullish Momentum After Negative US Retail Sales, but Faces MAs Above
Gold went through a major decline earlier this month, crashing from $1,830 to $1,685 after a pin candlestick below the 200 SMA on the daily chart. The decline was pretty fast, but it didn't last, and gold reversed right at the previous low, so the zone above $1,680 has turned into a great support and buying area.
The price reversed down there, and it has been moving higher continuously since, making up for the decline. The 20 SMA (gray) has been doing a great job as support during the last week, pushing the price higher on the H1 chart. Although, as shown on the H4 chart below, GOLD is facing the 200 SMA on the H4 chart. The US retail sales showed a decline in July, which was another negative report for the USD, although the CPI (Consumer Price Index) inflation report is the one everyone is waiting for, because the FED is basing its decision on inflation. Below is the retail sales report.
US July 2021 Retail Sales Report
Prior was 0.6% MoM (revised to  0.7 %)
Retail sales MoM -1.1% vs 0.2% estimate
Retail ex autos  -0.4% vs 0.2% estimate
Prior ex autos 1.3% (revised to 1.6%)
Retail sales control group  -1.0% vs 1.1 last month
Retail sales ex auto and gas  -0.7% vs 1.4% prior (revised from +1.1%)
Full report
Retail Sales Details:
Motor vehicles and parts dealers -3.9% versus -2.2% last month
Furniture and home furniture stores -0.6% versus -2.2% prior
Electronics and appliance stores +0.3% versus 4.5% prior
Building materials  and garden equipment and supplies dealers -1.2% versus -1.4% prior
Food and beverage stores -0.7% versus +0.8% prior
Health and personal care stores 0.1% versus 4.5% prior
Gasoline stations +2.4% versus +3.6% prior
Clothing and clothing accessories -2.6% versus +3.7% prior
Sporting-goods hobbies musical instruments -1.9% versus -1.9% prior
General merchandise stores -0.1% versus +1.7% prior
Miscellaneous +3.5% versus +4.0%prior
Non-store retailers -3.1% versus +0.2%
Food services and drinking places +1.7% versus +2.4% prior
The data is disappointing. The consumer represents two-thirds of the economy. The Dow futures are implying a -194 point decline. The NASDAQ is being hit the worst, at -86 points. The S&P futures are implying a -21.5 point decline.
Below is the table of changes for June and May (see yellow columns). A total of eight component categories were down (led by -3.9% motor vehicle and parts dealers. Clothing was also down -2.6%), while five were up (led by gasoline sales +2.4% and miscellaneous store retailers +3.5%)