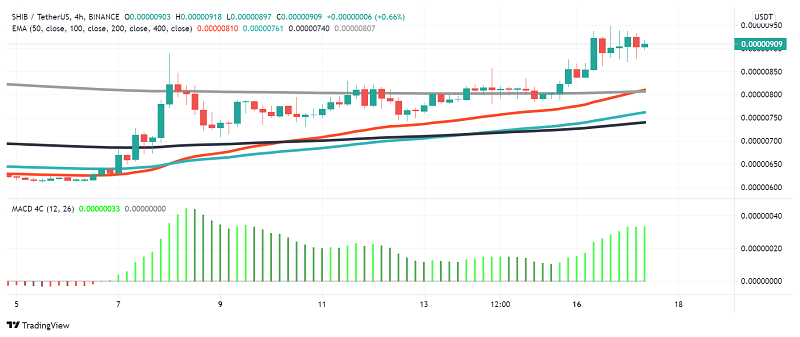 Shiba Inu Gears Up to Go Higher: $0.000010 Next Target?
The second most popular memecoin, Shiba Inu (SHIB) is continuing to climb higher early on Tuesday, with its community turning increasingly confident that it could cross the key $0.000010 mark as long as the mood towards cryptocurrencies remains optimistic. At the time of writing, SHIB/USDT is trading at around $0.0000090.
Supported by the recent rally seen in the overall crypto market, this token which originally started as a joke received somewhat of a resurgence and made a weekly gain of over 18%. This comes after several sessions of trading weak, despite having an active and highly engaged community backing it and supporting its adoption.
Last week saw greater levels of activity in the Shiba Inu coin, especially after its community launched NFTs on OpenSea. Community members created a KriptoKards Shiba NFT Card Collection on the platform, driving up interest in this coin even as the SHIB token got another push upward after being listed on popular social trading platform eToro.
However, since then, the enthusiasm towards the meme token has taken a slight hit over reports that weekend rewards from Shiba Inu's own DEX, ShibaSwap, have been delayed owing to one of its developers experiencing an unforeseen medical emergency. Its supporters, however, remain unconcerned as ShibaSwap contributes only a small amount of trading volume in SHIB, as it is more actively traded on popular crypto exchanges.
Shiba Inu's rise could also be fueled by the recent uptick in interest towards the leading memecoin, Dogecoin. This increases the attractiveness of trading such joke-based cryptocurrencies and gives their communities a reason to promote their respective tokens via memes, driving up their social sentiment and being noticed by newer investors to a greater extent.
Key Levels to Watch
On the H4 price chart of SHIB/USDT, moving averages as well as the MACD indicator are suggesting a strong bullish bias. Although, the momentum indicator points to the presence of some sellers as well at the moment.
Shiba Inu is holding comfortably above the pivot point at $0.0000081 and it looks like buyers are getting ready to test the immediate resistance at 0.0000091. Sustained buying interest can help overcome this level but buyers will face another test at $0.0000098 before they can take SHIB above the key $0.000010 mark.