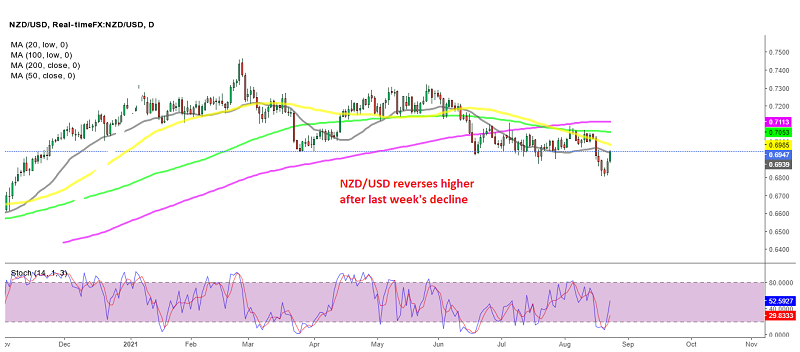 NZD/USD Continues the Strong Bullish Climb, as the RBNZ Turns Hawkish
The NZD/USD was on a strong bullish move until February this year, reaching 0.7470. Then buyers stopped pushing this pair to new highs, and as a result, the highs were getting lower, with the price falling to $0.68 late last week. This week though, we are seeing a strong reversal, which has pushed this pair nearly 150 pips higher, as shown on the daily chart. The USD surely has turned weaker this week, but other factors have also been helping the Kiwi.
Anthony Fauci is expecting the FDA to approve the Johnson & Johnson and Moderna vaccines, after approving Pfizer over the weekend, which improves the sentiment for risk currencies, such as the NZD. But, the most bullish factor for the Kiwi is the fact that the Reserve Bank of New Zealand is turning hawkish now. RBNZ assistant governor, Christian Hawkesby, made some comments earlier today, suggesting that the RBNZ is likely to hike rates by 0.50%, which seems very hawkish.
Remarks by RBNZ assistant governor, Christian Hawkesby
Policy decisions won't be tightly linked to COVID-19
Lockdowns only delay spending
Demand has proven to be more resilient than anticipated
RBNZ has considered boosting OCR by 50 bps
The remark in bold is a big statement, which has seen the kiwi push up to a session high of 0.6940 against the dollar. He replayed the message that the central bank was even contemplating raising the OCR by 50 bps last week, and that only the last-minute curveball and nationwide lockdown announcement stopped them in their tracks, and made them reconsider tightening the monetary policy.
So, the economic situation must be looking pretty good in New Zealand, with the RBNZ looking to increase interest rates again after hiking them by 25 bps in the last meeting. Now, the NZD/USD seems quite bullish once again, although the moving averages above should offer strong resistance, but let's see if this pair will get there first.